Rage 2 Guide
Tips, tricks, collectibles and maps! The Rage 2 Guide is a complete walkthrough that will guide you through all the quests. Our Rage 2 maps will help you find the secrets and collectibles. Tips for start will help you choose the best vehicles, nanotrite skills and weapons in the game.
ur guide to RAGE 2 is a comprehensive compendium about Avalanche studio's newest game. Here, you will find numerous tips, information, and a detailed walkthrough. Thanks to the, you will be able to complete all activities faster. You will also learn all the gameplay mechanics and discover all secrets.
The first few pages of the guide focus on general descriptions of the skills and activities. Our guide also contains answers to the most frequently asked questions. Here, you can, e.g. learn more about feltrite and how to get it fast.
Vehicles are an important part of RAGE 2's gameplay - we have prepared a chapter dedicated to them. There, you can find descriptions of the vehicles, information on how to repair them and how to get these vehicles. You can also learn how to recall a vehicle in case you lose it. We have also prepared a chapter dedicated to skills and companions. Read them to learn how to develop your character.
RAGE 2 features a large open world - our guide also includes a world atlas. That chapter has a map on which we have marked all the most important locations - authority sentries, bandit dens, arks, and many other activities.
However, RAGE 2 doesn't only focus on exploration. The game also features many story and side missions. Our walkthrough contains descriptions of each of the missions. Check them to know what you have to do in order to complete them.
The last chapter of our guide to RAGE 2 is appendix. That section contains information about the system requirements and controls. Thanks to them, you will learn whether your PC can run the game or not. We have also included tips on how to make the game run better.
RAGE 2 in a nutshell
RAGE 2 is the second installment of a post-apocalyptic FPS by Avalanche studio. The game has a large open world with numerous activities - story and side missions, races, bandit dens etc. We play as Vineland Ranger. Your objective is to stop General Cross from eliminating all the survivors.
The game features various weapons and skills. Thanks to them, you will be able to eliminate hordes of enemies. You will also be able to face mutants roaming the terrains.
What are the available editions of RAGE 2?
RAGE 2 is available in two editions - basic and collector's edition.
RAGE 2 collector's edition includes:
RAGE 2 video game,
Ruckus the Crusher Talking Head,
"Rise of the Ghosts" expansion,
DOOM BFG weapon,
"Cult of the Death God" mission,
"Mutant" Monster Truck skin,
Collector's poster.
Weapons
RAGE 2 features numerous weapons and skills helpful in eliminating enemies. The world of RAGE 2 is inhabited by various enemies and mutants - your goal is to kill them all.
Remember, every weapon can be upgraded. This page focuses on all the weapons available in RAGE 2:
Wingstick - this three-arm boomerang will save your life on multiple occasions. One of its upgrades enables the Wingstick to fly through the walls making this weapon irreplaceable.
Pistol - the first weapon you get in the game. This gun is useful during the initial fights. If you upgrade it, this pistol will be useful even during the later sections of the game.
Ranger Assault Rifle - fully automatic and reliable.
Combat Shotgun - useful in fights with groups of enemies. Thanks to this weapon, you will be able to eliminate a few enemies at the same time.
Smart Rocket Launcher - self-explanatory. Aim at any target and the rocket will track it automatically.
Charged Plasma Cannon - perfect against hordes of enemies. It will destroy everything that stands in your path.
Hyper-Cannon - works like a railgun.
Firestorm Revolver - thanks to this weapon you can set the enemies on fire.
Grav-Dart Launcher - send your enemies flying. With this weapon, you will be able to make your enemies fly around rooms.
Nanotrite skills
Our guide contains information about Nanotrite skills. You will learn how to use and develop these abilities.
In RAGE 2, players can use the following skills: Grav-Jump, Defibrillation, Rush, Constitution, Focus, Dash, Slam, Shatter, Vortex, Barrier and Overdrive.
Vehicles
In RAGE 2, you traverse the lands inside vehicles. They play an important role in the game - that is why we have prepared a separate section for them. Check this chapter to read the descriptions of the vehicles, learn how to repair and how to acquire them. You can drive, e.g. Phoenix, Raptor, Icarus, Monster Truck, or a boat with propellers.
Starting tips
We have prepared various starting tips for RAGE 2. Thanks to them, you will have an easier start.
Arks are crucial to your development - they are special objects where you can find weapons, resources, and acquire new skills. Explore the map and look for these locations to strengthen your character.
Develop your vehicle - the majority of the fights in RAGE 2 can be done without leaving the vehicle. Develop your vehicle in such a way that would make you ready for all kinds of fights.
Learn to use skills - your Nanotrite skills will save your live on multiple occasions. Train in open spaces. After that, remember to use them during fights.
Develop your character before you start a mission - the map is full of various side activities. Discover them during the exploration and try to complete them all. Thanks to them, you will get a lot of resources and new abilities.
Why can't I add a new car to the garage?
The game may not allow you to take such a step if the delivered car is the property of another person who is not an opponent. These include vehicles in cities or other places where friendly people reside. You can travel around with the cars found in this way, but the game will not allow you to put them in the garage, so that they may become the property of the protagonist. To add your car in the garage you need to find an abandoned vehicle in the game world.
Are there dogs in the game world?
Yes, but not exactly. You may encounter mutant dogs, and in such situations you have to defeat them. Unfortunately, there are no natural dogs so you don't have any option to pat or caress such animals.
System requirements
RAGE 2 minimal system requirements
OS: Windows 7 64-bit
CPU: Intel Core i5-3570 / AMD Ryzen 3 1300X
RAM: 8 GB
GPU: Nvidia GTX 780 / AMD R9 280
Free disk space: 50 GB
VRAM: 3 GB
Minimal system requirements are for playing in 1080p, on low settings and at 30 frames per second. These requirements aren't high - the game can run even on older PCs.
About

Rage 2 Guide

Author : Jacek "Stranger" Halas & Natalia "N.Tenn" Fras for gamepressure.com

Use the comments below to submit your updates and corrections to this guide.
RAGE 2
Video Game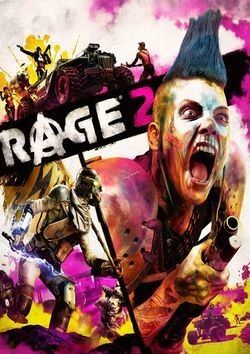 genre: Action
developer: Avalanche Studios
publisher: Bethesda Softworks
platform: PC, PS4, XONE
RAGE 2 is a sequel to the first-person shooter developed by id Software and published by Bethesda Softworks in 2011. The new game was made in cooperation with Avalanche Studios (the creators of the Mad Max and Just Cause series).

Similarly to the previous entry in the series, RAGE 2 takes the player on a journey through the post-apocalyptic Earth, ruined by an asteroid. The survivors were forced to live under the tyranny of the Authority led by General Cross. The general is doing whatever he can to kill everyone who comes from Arcs – special vaults in which selected individuals could survive the apocalypse. The players assume the role of Walker – the last Guardian from Vineland. He is trying to stop Cross' plans from realization.

RAGE 2 features a vast, open world that consists of deserts known from the previous game, remains of an old civilization, post-apocalyptic cities and settlements, swamps, and jungles. Like in the first RAGE, the map can be traversed on foot or by using various vehicles.

In addition to exploration, the gameplay features elimination of hordes of enemies with a variety of guns. The players can modify their weapons in order to increase their combat potential. Walker can also use special skills provided by implants called the Nanotrites. They enable the protagonist to perform deadly attacks like a ground hit or an energy surge that throws away all nearby adversaries. As the players progress through the game, the protagonist learns how to implement the implants into weapons – after filling a special bar and activating the Overdrive mode the weapon is dealing more damage, it gains new parameters and Walker's health begins to regenerate.