Mass Effect: Andromeda Game Guide
A new part of the galaxy awaits! The Mass Effect: Andromeda game guide contains detailed descriptions of all primary and secondary quests, along with the endings and available choices. It also lists collectibles and provides hints on the best character development.
This guide offers all information you need to complete Mass Effect: Andromeda and understand its rules. The early pages contain chapters of the general game guide. It deals with creating and developing the protagonist, recruiting companions, combat, encounters with non-player characters, exploration and traveling the galaxy, crafting items, and romancing people. The tips are complemented by chapters concerning unlocking trophies and answering the most frequently asked questions (how to gain experience quickly, how to obtain resources, how to enhance Nomad, and other popular topics).
The second major part of this guide is a very extensive walkthrough that provides descriptions of all main missions (Priority Ops) and optional quests. The latter involve allies and relationships (the protagonist's and his/her family's quests as well as those received from the companions), Heleus Assignments (optional quests connected to specific locations in the game world), and Additional Tasks (small, less complicated quests). The walkthrough is enriched with numerous images which inform you where to find important people and items or how to solve puzzles, among other things.
Mass Effect: Andromeda is the fourth installment of the incredibly popular action RPG series. The plot is set many years after the events of the original trilogy and is not directly connected to the story of the Reapers and the exploits of Commander Shepard. In the latest production, we are taken to the eponymous Andromeda Galaxy which offers entirely new things to discover and where we face previously unknown dangers.
Jacek "Stranger" Halas & Jakub Bugielski (www.gamepressure.com)
About

Mass Effect: Andromeda Game Guide

Author : Jacek "Stranger" Halas & Jakub "jbugielski" Bugielski for gamepressure.com

Guide contains : 211 pages, 963 images.
Strategy Guide
Last update : June 1, 2017, visit Strategy Guide
Walkthrough
Last update : June 1, 2017, visit Walkthrough
Use the comments below to submit your updates and corrections to this guide.
Hot Topics

of Mass Effect: Andromeda Game Guide
Mass Effect: Andromeda
Video Game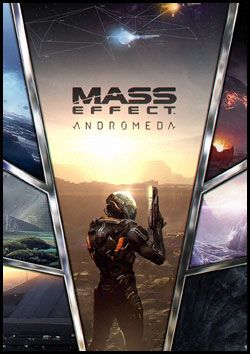 genre: RPG
developer: BioWare Corporation
publisher: Electronic Arts Inc.
platform: PC, XONE, PS4, WiiU
The fourth part of the hugely popular action RPG game series in a space-opera setting. BioWare Montreal, the development studio that helped create the two previous installments took the reins of Mass Effect: Andromeda's development. The game's story is not associated with the trilogy about Commander Shepard's fight against the Reapers, offering instead a completely separate plot featuring new characters and locations. Using the proven pattern, the creators of Mass Effect: Andromeda put the focus on a spectacular TPP action experience and moral choices that have a direct impact on the course of events. The technical side of the game is based on the third-generation Frostbite engine, providing high-quality audiovisuals.
Mass Effect: Andromeda PC version
System Requirements
Recommended: Intel Core i7-4790 4.4 GHz/AMD FX-8350 4.0 GHz, 16 GB RAM, graphic card 3 GB GeForce GTX 1060/4 GB RX 480 or better, 55 GB HDD, Windows 7/8.1/10 64-bit
Minimum: Intel Core i5 3570 3.4 GHz/AMD FX-6350 3.9 GHz, 8 GB RAM, graphic card 2 GB GeForce 660/Radeon 7850 or better, 55 GB HDD, Windows 7/8.1/10
More About

Mass Effect: Andromeda

Mass Effect: Andromeda – everything we know and tons of new info following N7 Day
This year's N7 Day has brought loads of new facts about Mass Effect: Andromeda. Bite into our recap written by a fan who knows the franchise like the back of his own hand.

Mass Effect: Andromeda is on its way – what do we know so far?
In theory, there's about 9 months until the release of the new Mass Effect, but the new chapter in the space series is still shrouded in mystery. Still, we know enough to see what Mass Effect: Andromeda is shaping up to be.

The Ark Theory: Does Mass Effect: Andromeda feature a galactic exodus?
We may not know much about the latest installment of Mass Effect series, but that doesn't stop the fans from coming up with theories concerning its contents. One of the most interesting among them is the one that involves something called the Ark.