Assassin's Creed Origins Guide
Nothing is true, everything is permitted. The unofficial guide to Assassin's Creed: Origin will help you beat this enormous game 100%. It contains a complete walkthrough of all quests. You will also find a description of gameplay mechanics and detailed maps containing lots of secrets.
The unofficial guide for Assassin's Creed: Origins and The Hidden Ones contains a full set of information that can help you with completing the game and unlocking all of its secrets. The guide is divided into a few chapters that focus on different topics.
The Hidden Ones DLC Guide and Walkthrough
We made new guide for Assassin's Creed Origins The Hidden Ones DLC with walkthrough (main and side quests), tips and hints, papyruses maps and papyruses puzzles.
Papyruses DLC
Papyruses are returned in The Hidden Ones, a new DLC for AC Origins. Here you can find all papyruses puzzles:
Main quests walkthrough
The Hidden Ones Maps
In this section you can find all maps with secrets in The Hidden Ones new maps and locations like Madiama Nome, Klysma Nome, Arisnoe Nome and the Red Sea. In The Hidden Ones DLC to Assassin's Creed Origins the developers have given us four new provinces - Arisone Nome, Klusma Nome Madiama Nome and Red Sea. There's a ton of activities you can engage in here - there are new papyruses, stone circles and hermits' locations. Apart from that, there are quite a few side quests and more than a dozen main quests. The area was designed for players on the 40th experience level.
Things you should know before you start playing
Very important part of this guide is the FAQ section. Here you will find answers for the most frequently asked questions.
Read before playing:
Secrets
Our guide can also help you in finding secrets. The most important ones such as Papyruses or Tombs are described in separate chapters.
You should start your treasure hunting here:
World Maps
The world atlas is this guide's major part. It contains a map of the entire world as well as maps of all main provinces. Every map contains descriptions and locations of the most important places.
Maps of starting provinces:
Walkthrough
Our guide for AC: Origins also contains a detailed walkthrough. There, you can find descriptions of all main and side quests as well as main events that you can come across during the game. The descriptions for the most difficult bosses can be found on separate pages.
Trophy Guide
Those players, that want to complete the game in 100%, can use our trophy guide. There, you can find detailed descriptions of all achievements that are in the game.
Assassin's Creed: Origins is another instalment of a very popular action series. Here, we move to Ancient Egypt. The developers created a huge world for us to explore. We can complete many quests, challenges and find treasures that are hidden mostly in complicated Tombs that must be explored carefully.
Natalia "N.Tenn" Fras & Jacek "Stranger" Halas (www.gamepressure.com)
About

Assassin's Creed Origins Guide

Author : Jacek "Stranger" Halas & Natalia "N.Tenn" Fras for gamepressure.com

Translator : Mateusz "Ictius" Sawka

Use the comments below to submit your updates and corrections to this guide.
Assassin's Creed Origins
Video Game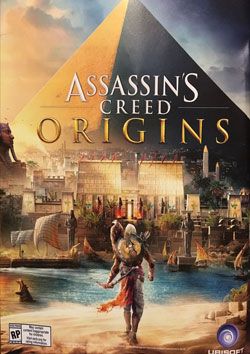 genre: Action
developer: Ubisoft
publisher: Ubisoft
platform: PC, PS4, XONE
rated: +18
Assassin's Creed Origins is a yet another installment in the best-selling open-world action game series developed by an internal Ubisoft studio located in Montreal. The game brings multiple novelties into the series including numerous changes, improvements, entirely new mechanics, and story. At the same time, Origins is the first installment in the series' history to be set in Antiquity. The game described herein is available on a number of platforms, including PC Windows Ė this release of the game delivers highest quality visuals with 4K resolution.

The action of Assassin's Creed Origins is set in Ancient Egypt, where the brotherhood of the titular Assassins has originated from. Players assume the role of Bayek from Siwa and learn about the intrigue standing behind the creation of the Assassin organization. The main protagonist of this story is one of the Nubian warriors, who for centuries have served the pharaohs as agents and elite lawmen. Bayek along with his fellow soldiers have become obsolescent when the Greek influences were spread by the Ptolemaic dynasty - in face of these changes, the main protagonist is left with no other choice than to adapt to the new situation.

Similarly to most of the previous installments in the series, apart from the historical part of the plot, there are also the elements taking place at the present times. Players get to uncover more secrets of the Abstergo Industries, which is only a cover for the organization fighting the Assassins - the Templars.

Assassin's Creed Origins for PC, PS4 and XONE gives at players' disposal an open world that in terms of its size matches the one featured in Assassin's Creed IV: Black Flag. The in-game world comprises cities (such as Giza, in which you can see both Pyramids and the Sphinx), oasis (such as Fajum and Siwa), and the Nile Delta. This time around, the map is not divided into sectors loaded during the game; this also regards the underwater bottom, where players can discover ruins and ship wreckages. An important aspect of the game is the exploration players can perform both afoot (once again, we can enjoy the free running system allowing us to climb the infrastructure and jumping between different constructions parkour style) and on the back of a steed - either a horse or a camel. Moreover, the game also offers the opportunity to ride a chariot and travel onboard boats.

The in-game world is inhabited by wild animals (Bayek can domicile them and, if necessary, use their help in combat) as well as NPCs (for the first time in the series, their life is subject to the day and night cycle and their unique duties). These neutral characters are the ones that assign story and side quests that propel the game. In comparison to the missions from the previous installments, the ones in the game described herein feature a much more open structure.

Other changes include the combat mechanics. The developers have abandoned the formula based on spectacular counterattacks and implemented dodging, blocking the enemy blows with a shield, and using moments when enemies put their guard down. Moreover, the attacks have been divided into two categories: light attacks can be used when fighting weaker opponents, while the heavy blows are most effective against armored enemies (including bosses). Additionally, after filling the special adrenaline bar, Bayek can mount a destructive attack able to knock down even the strongest foes. The main protagonist gets at his disposal diversified weapons Ė these include cold steel for close combat (axes, bats, swords, daggers, and clubs) as well as ranged weapons (several types of bows). Similarly to the previous installments, the main protagonist can perform sneak attacks with his hidden blade and use gadgets such as smoke grenades. What is worth noticing, the pieces of equipment can be upgraded thanks to the elaborate crafting system.

The clear RPG elements include also the character development system. On their adventure, players earn experience points and level up their characters by purchasing new skills from the character development tree. These skills are divided into three groups representing their own preferences: Master Warrior includes talents regarding close combat, Master Hunter allows players to master archery and stealth elimination of the enemies, Master Seer regards tools utilized by Bayek and his ability to manipulate the environment. Somewhat above these groups, there is also Senu, a domiciled eagle, and Bayek's faithful companion. Players can dispatch the bird for reconnaissance (allowing them to familiarize themselves with the landform and enemy locations). By developing Senu's abilities one increases the chances of spotting the enemies and distracting them.

Assassin's Creed Origins has been based on AnvilNext 2.0 technology - a new version of the proprietary graphics engine, which allowed the developers to significantly improve the game's visuals. Players are bound to appreciate the detailed surroundings along with rich character animations. As befits an Assassin's Creed game, on their adventures, players are accompanied by a great soundtrack.
Assassin's Creed Origins PC version
System Requirements
Recommended: Intel Core i7 3770 3.4 GHz/AMD FX-8350 4.0 GHz, 8 GB RAM, graphic card 3 GB GeForce GTX 760/Radeon R9 280X or better, Windows 7/8/10
Minimum: Intel Core i5 2400 3.1 GHz/AMD FX-6350 3.9 GHz , 6 GB RAM, graphic card 2 GB GeForce GTX 660/Radeon R9 270 or better, Windows 7/8.1/10
More About

Assassin's Creed Origins

Assassinís Creed Origins hands-on Ė ancient history brings revolutionary changes
After taking a one-year break from the Assassinís Creed series, Ubisoft shakes things up in the known formula. Is Origins truly a revolution? Letís try to formulate an opionion based on 4 hours we spent in its open world.

Will Assassinís Creed Origins be a full-fledged RPG?
The Assassinís Creed franchise has been romancing with RPG mechanics from the very beginning. Can the Egyptian chapter in Origins be called a typical role-playing game? The developers avoid this label, so letís try to answer this question ourselves.