Red Dead Online Guide
The Red, the Dead and the Online! The Red Dead Online guide contains the best set of starting tips to help you in various tasks in the RDR2 multiplayer mode. Our walkthrough describes all story missions, explains camp upgrades, and also provides advice on hunting animals or winning races.
Explore the Wild West together with your friends! Our guide to Red Dead Online is a compendium where you can find numerous information about Rockstar Games' newest title. The guide features a chapter dedicated to the game's basics where you can find descriptions of the gameplay modes, learn how to create your own posse, read about your camp or check the most important starting tips.
Our guide will help you learn what you can do in RDO, what does the game has to offer, and how to avoid dangers that await you in the multiplayer. Also, we have included tips on how to earn gold, experience points, and money. Your character can reach 100 ranks - we have listed all the rewards that are unlocked with new ranks. The guide also contains descriptions of various challenges.
The guide for Red Dead Online contains walkthroughs for all the story missions available in this mode. Players can complete 8 different missions. To complete them, you will need to reach different honor ranks. Besides the story missions, you can also check information on various Stranger quests.
Our guide also features information about weapons, ammunition, gunsmiths, and a new feature available in this mode - the handheld catalogue. The Dead Eye has also received a few tweaks - players can now modify it to their liking.
The FAQ chapter focuses on the most important aspects of the game - how to change your appearance, how to quickly change your honor, get money/gold/XP, and much more. We have also prepared a detailed description of your character - your skills, information on how to reach new ranks, and ways of increasing your main stats.
Red Dead Online is similar to Grand Theft Auto Online. The developers have reused the content made for Red Dead Redemption 2 and added multiplayer elements to it. The game is set in North America. The end of Wild West is nigh. The game's world is vast, full of interesting locations, NPCs, and numerous side activities. These activities include both story missions and classic multiplayer modes. The game has content for players who enjoy cooperation and those who want to compete with others. There are also some elements that were borrowed from the multiplayer mode available in the first Red Dead Redemption.
What can I do in Red Dead Online?
Story Missions
Let's start with the story aspect of this mode. After the prologue, you will be able to complete various missions - they are marked with a gold icon. These missions are similar to those in RDR2 - they have an introduction part, plot, and even moral choices! You can do these missions with other players - up to four people. Story missions reward you with money only during your first playthrough. Replaying them will only give you XP.
The beta of Red Dead Online has 8 story missions. Some of them require a certain honor level - if you can't see a new quest, it probably means that your honor isn't at the right level.
Stranger Missions
As for Stranger missions, these quests are rather easy and short. Usually, you have to bring an item, retrieve a stagecoach, participate in a firefight etc. These missions must be done in the free roam mode - other players can interrupt you. Don't be surprised when a calm and peaceful escort mission will end with a firefight with an opposite gang wanting to capture your stagecoach and claim the reward.
Fighting other players in matchmaking
The game features a few game modes where you can fight with other players: Shootout, Make It Count, Most Wanted, Hostile Territory, and Name Your Weapon. Each of the modes differs slightly (the rules are described in one of the chapters) which means that you shouldn't get bored. You can also choose whether you want to play in a mode with 16 or 32 players.
Horse races
The game features a lot of races where you can compete with other players. Here, you will need to be good at controlling your mount, managing your horse's stamina, and have knowledge about the terrain.
Hunting/Fishing
The multiplayer mode also allows you to hunt and go fishing. You can sell meat, fish, and skins to get a lot of money and XP. Remember - in multiplayer mode you can get shot while you are walking through a forest.
Hunting other players and interacting with them
Other players are marked on your map. You can go to them and try to interact. Your character can fight, have a conversation by using the voice-chat etc. I had a lot of fun when I met a lot of players in Rhodes who divided themselves into a few groups and tried to capture the town for themselves.
Does Red Dead Online feature microtransactions?
Currently, the beta version doesn't feature any microtransactions. However, they will be added later and become an inseparable part of the game. You can spend real money on gold which can be exchanged for valuable items. Luckily, you can get gold thanks to other modes - by receiving nuggets. 100 gold nuggets will give you one gold bar.
Can I play Red Dead Online solo?
Of course! You can play the game alone - it is easy to find a posse and become its member. Try to get a microphone so you will be able to communicate with other players. Many missions and game modes allow you to choose players - you can only feel "lonely" when you are exploring the map in free mode.
Can I meet the characters from the campaign in Red Dead Online?
Yes, you can meet some of them, but they play a minor role here. You won't meet Dutch and the other gang members - treat RDO as a completely new adventure.
Basics
This chapter focuses on the game's basics. Here, you can find the most important information regarding Red Dead Online.
Equipment and combat
Life on the Wild West isn't easy. Prepare yourself for numerous fights with NPCs and other players. We have prepared chapters that will help you win fights, and learn about the available equipment.
FAQ
This chapter contains the list of the most important questions regarding the game along with our detailed answers.
How to unlock all story missions? - The game offers 8 story missions. Some of them are blocked - check this page to learn how to unlock all of them.
How to change your appearance? - Do you want to know if it is possible to can change your appearance in RDO? Check out this chapter!
How to quickly increase/decrease your honor? - This page contains information on how to increase/decrease your in-game honor.
Horse insurance - how to get it and is it worth? - Should you get a horse insurance? Can your horse die permanently? Check out this chapter!
How to find treasure maps? - Besides shootouts, you can also try to become a treasure hunter. More details in this chapter.
Unlockable rewards
Rockstar Games has prepared a lot of rewards - you can unlock them by receiving new ranks or by completing challenges. We have prepared the full list of rewards available in Red Dead Online.
Rewards for completing challenges - the list of all rewards you unlock by completing in-game challenges.
Rewards for achieving new ranks - The (extensive) list of all rewards unlocked by achieving new RDO's ranks.
Main character
You start Red Dead Online with creating your own character. The next three chapters focus on describing the character creation process.
Character creation - Details about the character creation process.
Buying new abilities - Dead Eye works differently in RDO. It can, for example, heal your character or increase your damage. Check this page to learn more about these skills.
Character progression - Here, you can learn how to develop your abilities and stats.
Story Missions
Currently, Red Dead Online has 8 story missions. These missions can be played with groups of up to 4 players. We have prepared descriptions of all the missions - learn how to beat them fast and get gold medals.
Prologue
Love and Honor
The Right Side of the Tracks
If the Hat Fits...
Where Your Morals Lead You
Highly Illegal and Highly Immoral
Kerosene, Tart and Greed
More Than One Way to Earn a Buck
Kill Them, Each and Every One
About

Red Dead Online Guide

Author : Grzegorz "Alban3k" Misztal for gamepressure.com

Translator : Mateusz "Ictius" Sawka

last update : December 3, 2018

Use the comments below to submit your updates and corrections to this guide.
Red Dead Online
Video Game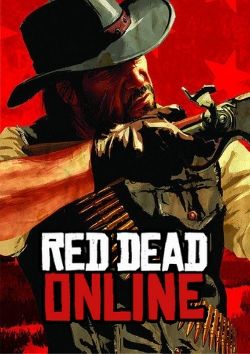 genre: Action
developer: Rockstar Games
publisher: Rockstar Games
platform: XONE, PS4
Red Dead Online is a multiplayer action game which is also a network module of Red Dead Redemption 2. Rockstar Games is responsible for the creation of both.

Red Dead Online is based on a similar scheme as the previously published Grand Theft Auto Online. The authors used the content developed for the purposes of Red Dead Redemption 2 and complementing it with multi-person elements. Players thus find themselves in America at the end of the Wild West era, with a vast area full of interesting places and NPCs, as well as numerous activities. The latter include both fictionalized missions and classic multiplayer modes, and the game features attractions for fans of both cooperation and competition-based play. There are also some borrowings from the original Red Dead Redemption multiplayer mode.

Red Dead Online uses the same audiovisual setting as the basic Red Dead Redemption 2. The game is available for free to buyers of the core version of the game, but functions as a completely separate production.