Watch Dogs 2 Game Guide
You're being hacked, bro!The Watch Dogs 2 guide contains a complete and detailed description or all main and optional operations of the game. It also includes various tips on the gameplay mechanics and info on finding the collectibles (key data, research points and others).
The unofficial guide to Watch Dogs 2 includes all the information needed to complete the game in 100%. The initial pages of the guide focus on hints and descriptions of new game elements, those not present in the first game or ones that were significantly changed. This includes things like the usage and applications of the Jumper and the Quadcopter, modified hacking of some elements of the environment, as well as new skill trees (pros, cons and usefulness of individual skills). The guide also includes chapters advising how to quickly earn money and how to spend it the best way possible, how to gain new followers or how to unlock achievements (features a full list of achievements, along with information on their conditions and additional commentary).
A large portion of the guide is dedicated to walkthroughs for all main and side missions. Walkthroughs of individual quests include detailed descriptions of subsequent mission sections, as well as suggestions on how to complete them with the least amount of effort or which method is the most efficient one (many missions allow the player to choose their preferred strategy). Missions that require the player to plan and follow a route to reach their destination were supplemented with numerous screenshots, marking key locations.
Another large section of the guide includes high-quality maps of San Francisco. On the maps we have marked the game's numerous secrets, including things like key data, research points, new paint jobs, rare pieces of clothing or unique cars. Many of them have descriptions and screenshots, thanks to which finding them will even easier. The last pages of the guide are dedicated to controls and hardware requirements.
Watch Dogs 2 is a sequel to the popular sandbox action game released by Ubisoft. In the second part we are taken from Chicago to San Francisco, where we play as Marcus Holloway, a member of the local hacker group known as DedSec. The sequel is characterized by a lighter tone than it's predecessor but the premise of the game remains mostly the same. Most of our time will be spent exploring the virtual setting and hacking various electronic devices we find there. The new game offers even more freedom, enabling the player to hack new devices and offering more advanced control of their operation.
Jacek "Stranger" Halas & Grzegorz "Alban3k" Misztal (www.gamepressure.com)
About

Watch Dogs 2 Game Guide

Author : Jacek "Stranger" Halas & Grzegorz "Alban3k" Misztal for gamepressure.com

Stage of progress : 5% completed, last update : November 15, 2016

Guide contains : 50 pages, 496 images, 3 maps and annotated illustrations.

Use the comments below to submit your updates and corrections to this guide.
Hot Topics

of Watch Dogs 2 Game Guide
Watch Dogs 2
Video Game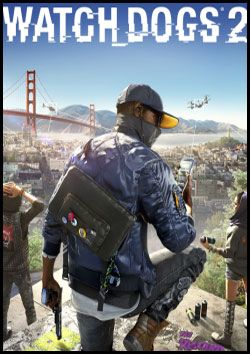 genre: Action
developer: Ubisoft
publisher: Ubisoft
platform: PC, PS4, XONE
Watch Dogs 2 is the successor to an open-world action game Watch Dogs (2014). In the original game, the player was given an opportunity to become a skilled hacker who controls the urban infrastructure and different communication devices, using a set of moden-day gadgets.

In contrast to the seriousness and gloomy atmosphere of the first installment, Watch Dogs 2 delivers the player with a more relaxed approach to the formula of a hacking-themed open-world game. The action is set in a completely new town, which is San Francisco this time. The player assumes the role of Marcus Holloway, though what is really important is that he is a member of Dedsec – a group gathering local hackers.

Generally, Watch Dogs 2 does not stray away from the gameplay formula of the original Watch Dogs. As a result, it is again an open-world, third-person action game which resembles the legendary Grand Theft Auto series in terms of the mechanics. However, the Watch Dogs series distinguishes itself by giving the player an opportunity to hack the surroundings with a very wide set of gadgets – Watch Dogs 2 definitely brings an extension to this aspect of gameplay. Marcus Holloway has a set of entirely new gadgets at his disposal, such as a flying drone, an RC car or a weapon created using a 3D printer. The creators were focused on giving more freedom of approach to the player, who can complete subsequent story missions in a variety of ways, depending on their preferences.

Contrary to the original game released over two years earlier, Watch Dogs 2 was created with modern-day PCs and consoles (eighth generation) in mind since the very beginning. This allowed for major improvements in terms of the visuals. As a result, the graphics have been significantly upgraded and the open world of San Francisco feels alive to a greater degree.


More About

Watch Dogs 2
Watch Dogs 2 system requirements revealed, PC version delayed
Ubisoft shared some news on Watch Dogs 2 PC. Firstly, they revealed the technical details on this version, including the system requirements. Another thing is a slight delay of the game.
Watch Dogs 2 launch date accidentally revealed
IGN accidentally revealed the launch date of Watch Dogs 2 in an advertisement before its official announcement.