Warhammer Vermintide 2 Game Guide
Deratisation level: Grandmaster! Warhammer Vermintide 2 game guide is the complete compendium of knowledge about this unique cooperative game. You will learn here how to fight, vanquish all bosses and also where to find all grimoire and toms.
The following Warhammer: Vermintide 2 game guide contains information and tips to help you during the game. Our advice explain every aspect of the production in detail - you'll learn how to fight effectively, where to find tomes and grimoires, or how to get new equipment, and the description of each map will help you get through the most important moments of each mission. In addition, the guide describes in detail all the playable heroes - you'll learn the pros and cons and the available character classes. Finally, the FAQ section will answer all the questions that may arise during the game.
Basics
The first chapter of the guide will introduce you to the gameplay, and the descriptions of all basic mechanics will enable you to quickly get into the game. You will get some good starting advice, learn how to start a mission, how to fight, and how to craft items.
Starting tips - some practical advice that will make the game easier.
Starting a mission - how to begin a mission and what difficulty level to choose.
Interface - learn what all those HUD icons mean.
Combat - fighting efficiently, dealing with armored opponents, and healing. What is a character power?
List of enemies - how to fight with elite and special enemies?
Crafting - all you need to know about forging and creating new items.
Okri's Challenges - completing quests and earning chests.
Characters
The next chapter is focused on the description of playable heroes. What's the specialty of each class, what are its pros and cons? The answers to those, and any other questions you may have can be found on the following pages.
Tomes and Grimoires
Tomes and grimoires are items that can be found in every mission. Carrying them in your equipment comes with penalties. However, players can also get rewards in a form of additional XP or a better box received at the end of that mission. The pages listed below contain detailed descriptions that will help you find the tomes and the grimoires (the list is also divided into acts).
FAQ
The FAQ will explain all the doubts that may arise when playing the game. Wondering whether you can play Warhammer: Vermintide 2 solo, how to level up your characters fast or get new equipment? The following pages will answer those (and other) questions.
How to gain experience quickly?
How to get new gear?
Appendix
The last chapter of the guide focuses on the technical aspects of the game. Here you'll learn the hardware requirements of the game, making sure your PC can handle it. Additionally, you'll find the game's controls schematics.
About Warhammer: Vermintide 2
Warhammer: Vermintide 2 is a continuation of Warhammer: The End Times - Vermintide, released in 2015. The game does not deviate from the premise used in the prequel - together with either friends, random players or bots we are thrown into the middle of the war between the Empire, the rat-like Skaven and the forces of Chaos. Each mission involves five heroes, and the game is based on battles against a huge number of opponents, and completing simple tasks. The game also includes basic character progression mechanics, implemented as discovering new skills and acquiring better equipment.
Radoslaw "Wacha" Wasik ("https://www.gamepressure.com/")
Starting Tips
Some practical tips will help you familiarize yourself with the game. Following our advice will increase your chance of successfully completing a mission. The full list of hints and advice can be found on the "Starting tips" page of your guide.
Don't forget about blocking - blocking enables you to nullify incoming enemy damage. However, you can't do it constantly - your character has a certain value of

Stamina

(when you block you will see shield icons on the screen). Blocking enemy attacks will cost you stamina - if it drops to zero, you will take normal damage. The more powerful the enemy is, the more stamina shields will consume their attack. You should also pay attention to how efficient a weapon's block range is - it's displayed next to the Stamina meter of a given weapon. This value determines when your blocks are the most efficient. Attacks dealt outside a block range will be blocked but they will consume more shield icons (two times more).
Make your healing count - you can restore your health with either

healing draughts

or

medical supplies

. You won't find many of them on the map (especially on higher difficulty levels), so use them only when you have to, e.g. when your character has around 10-15% health left and there's trouble ahead.
Use strong attacks - strong attacks are your only way to kill armored enemies. Hitting them with normal attacks won't even make a dent in them, and the only thing you'll see will be the red shield icon. heavy attacks offer different ways of damaging enemies. Depending on a weapon you can attack an entire group of enemies or you can use a strike that will penetrate armor. Use both light and heavy attacks to eliminate your opponents.
Help your allies - this is meant to be a co-op game. You'll need to cooperate with your team and help each other out. Protect the other members of your team, heal them, help them if they get swarmed by enemies.
How to begin a mission?
Warhammer: Vermintide 2 doesn't have a classic menu showing you all the options. Instead, you will find yourself in a fortress, where you can use objects to activate various options, such as the forge, where you can open the crafting menu. To begin a mission you must go to the map hanging in the central part of the fortress. Activating the map will allow you to start a quick game or create your own waiting room, where you can invite your friends, or play with bots. For more information, please refer to the "Starting a Mission" page of this guide.
How to acquire chests?
The chests play a very important role in the game - inside you will find random gear, which will allow you to increase the Power level of your hero (influencing the damage you deal). Higher quality of a chest means that you'll get better equipment as a reward. The chests are acquired by completing quests and challenges (see the "Okri's Challenges" page in our guide) and by leveling heroes.
You can open the chests at the center of the fortress (or in the "Spoils of War" menu), but remember that the type of weapons you gain depends on the character you are currently using. For example, if you open a chest as a Markus Kruber, you will get gear for this character (you can get items for all three classes available to a given character).
Essential controls in Warhammer: Vermintide 2
Below, we've listed the keys most often used during the dynamic game that is Vermintide 2. A full list of controls can be found on the "Controls" page of our guide.
| | |
| --- | --- |
| | Character movement |
| | Jump / Dodge |
| | Crouch |
| | Attack |
| | Defend / Charge / Zoom in |
| | Weapon quick swap |
| | Reload weapons |
| | Use character ability |
| | Mark enemy |
| | Use |
| | Melee weapon |
| | Ranged weapon |
| | Medical supplies / Healing draught |
| | Potion |
| | Grenade |
Will my PC run Warhammer: Vermintide 2?
To really enjoy Warhammer: Vermintide 2, you will need to meet at least the minimum requirements - if you do, you can run the game with low graphics settings. Meeting the recommended requirements will enable you to admire the game in highest quality.
Minimum hardware requirements of Warhammer: Vermintide 2
CPU: Intel Core i5-2300 (2.8 GHz) / AMD FX-4350 (4.2 GHz)
GPU: NVIDIA GeForce GTX 460 / AMD Radeon HD 5870
RAM: 6 GB RAM
HDD space: 45 GB
OS: 64-bit Windows 7 / 64-bit Windows 8 / 64-bit Windows 10
Recommended hardware requirements of Warhammer: Vermintide 2
CPU: Intel Core i7- 3770 (3.5 GHz) / AMD FX-8350 (4 GHz)
GPU: NVIDIA GeForce GTX 970/1060 / ATI Radeon R9 series
RAM: 8 GB RAM
HDD space: 45 GB
OS: 64-bit Windows 10
What is a Red Shell?
Red Shell is an analytical tool - the creators of Warhammer: Vermintide 2 used it to track the impact of marketing campaigns. Players have expressed many concerns and suspicions about this tracking, so Red Shell has been removed in one of the game updates and is no longer used.
About

Warhammer Vermintide 2 Game Guide

Author : Radoslaw "Wacha" Wasik for gamepressure.com

Translator : Mateusz "Magpull" Pytlik

last update : July 9, 2018

Use the comments below to submit your updates and corrections to this guide.
Warhammer: Vermintide 2
Video Game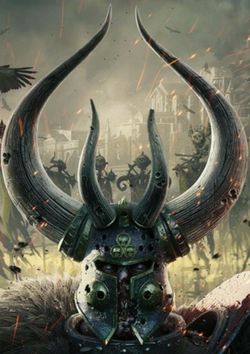 genre: Action
developer: Fatshark
publisher: Fatshark
platform: PC, PS4, XONE
A sequel to Warhammer: The End Times – Vermintide from 2015. The title is a first-person perspective action game focused on cooperation mode. The players use various weapons to fight beasts living in the Old World.

Warhammer: Vermintide 2 is a sequel to Warhammer: The End Times – Vermintide, a game that debuted in 2015. The new entry in the series is a first-person perspective action game for PC, PS4 and XONE. It takes place in the Warhammer universe and it is focused on co-operative gameplay. The main task in the game is to fight various beasts from the Old World by using various unusual weapons. The sequel, similarly to the first game in the series, was developed by Fatshark, the creators of games like War of the Vikings and Krater.

In the first entry in the series the brave heroes fought Skavens in the city of Ubersreik. Warhammer: Vermintide 2 for PC, PS4 and XONE takes place in Helmgart – a stronghold city located near the border of Bretonnia. There the players must face rat-like creatures and the forces of Chaos. If the player fails, the empire will fall as well.

Warhammer: Vermintide 2 for PC, PS4 and XONE is a classic sequel that doesn't introduce any major changes. It is a brutal action game focused mostly on melee combat, in which player uses various swords or spears. During the game he or she can also use ranged weapons like crossbows. The gameplay is focused on cooperation between players. Up to four players can play together. They assume the roles of various characters with different abilities. There are five characters to choose from. They can be developed in three separate directions. This enables the players to adapt the character to their play style. Among the available characters there is dwarf Bardin Goreksson, assassin Kerillian, head hunter Victor Saltzpyre, mage Sienna Fuegonasus and knight Markus Kruber.

The developers improved the loot system. After each mission the players are awarded with various rewards, including weapons and materials that are useful in crafting. Heroic Deeds is one of the novelties – it features unique scenarios in which enemy forces, surroundings, weapons and mission objectives are changed.

The graphics of the game are of similar quality to the ones featured in the first game. It is a nice looking and dark game. The title features dedicated servers and players looking for additional attractions can find them thanks to the Steam Workshop support.