Unravel 2 Game Guide
Thread, that led to happy finish! Unravel 2 game guide is a compendium of knowledge about the adventures of two woolen heroes. In this walkthrough you will find information about hidden secrets and how to finish the game without any harm.
The guide to Unravel 2 (Two) contains precise locations of all collectibles, a solution and a myriad of practical tips that will help you during the game. You will learn what has to be done in order to complete the game without a hitch - either alone, or with a friend. This guide will allow you to find all collectibles. We've listed all of them to make things easier for you. You can also check out the controls section, and the solutions to all puzzles the game gives you to solve. This guide will let you complete the game in 100% easily with just one playthrough. Unravel Two is the follow-up to a greatly appreciated platformer published by Electronic Arts. In the second installment, you can play not only as Yarny, but also his new friend. This allows you to complete the whole game in coop. The game also supports a single player mode, and beating it alone isn't a problem.
The guide to Unravel 2 contains:
Description of collectibles,
Natalia "N.Tenn" Fras (http://www.gamepressure.com)
About

Unravel 2 Game Guide

Author : Natalia "N.Tenn" Fras for gamepressure.com

Translator : Jakub "Yossarian" Nowak

Use the comments below to submit your updates and corrections to this guide.
Unravel Two
Video Game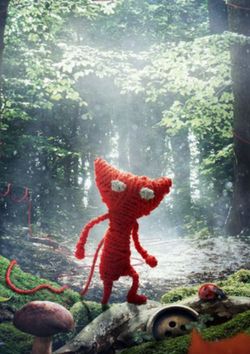 genre: Arcade
developer: Coldwood Interactive AB
publisher: Electronic Arts Inc.
platform: PC, PS4, XONE
Unravel 2 is a 2.5D platform game. Playing as a yarn toy, you need to be both skillful to succeed and clever to complete many logic puzzles in your path.

In Unravel 2, you once again play as a red yarn toy. This time, however, it has a friend, made of blue yarn. Both characters have to cooperate with each other. The game features a co-op mode, but you can also play on your own by switching between the two toys.

Mechanics-wise, the production is a classic 2.5D platform game—while the visuals are 3D, the gameplay is two-dimensional. Unravel features typical arcade-like challenges, but also logic puzzle elements.

Compared to the its predecessor, the gameplay of Unravel 2 is more dynamic, with more exciting sequences, while the need for cooperation between the two characters brings a certain novelty to the puzzles.