Seven The Days Long Gone Game Guide
Become an assassin in post-apocalyptic world. This is an unofficial guide to Seven: The Days Long Gone. It contains all the information you need to get your head around the game's basics, full walkthrough of main and side quest and many useful tips.
The unofficial guide to Seven: The Days Long Gone contains a complete set of information to help you understand the basics of the game and complete all of the missions. On the first pages you will find a variety of tips to help you during the adventure. They concern, above all else, effective sneaking, combat, traveling around the game world or crafting. In this part of the guide we have also included chapters concerning the skills and the development of the character.
A very important part of the guide is a chapter with answers to frequently asked questions (FAQ). It explains, among others, how to survive at the beginning of the game, how to acquire visas helpful in reaching further parts of the island, where to acquire good outfits, how to kill powerful enemies or how to use the changing weather to sneak effectively. The entire game guide is closed with a chapter about the available achievements.
We have allocated a significant amount of space in our guide to the walkthroughs of all of the main and side missions. Each of the missions contain information about the requirements to start them, their course, decisions and their consequences, as well as any rewards provided for completing them.
Tips for start
The initial pages are mostly about different tips that you'll find useful at the beginning of your journey. They're focused on effective sneaking, combat, traveling or crafting. You will also find a chapter on abilities and character development.
Guide for beginners
A vital part of this guide is the FAQ. There, you might find advice on things such as how to survive in the beginning, obtain the visas used for reaching subsequent parts of the island, where to find good disguises or how to use the weather to your advantage.
Maps
Another big part of this guide is the Atlas, where you can find high-resolution maps with the most important locations marked down.
In development
Trophy guide
The guide is concluded with an Achievements chapter.
In development
Walkthrough
A fair amount of attention has been given to the walkthroughs of all the game's side quests. Each entry is complete with information on how to finish the mission, what goes down, what decisions have to be made and what are their consequences, as well as what are the rewards for finishing the quests (if they're available). The 'walkthrough' section is concluded with a list of all quests along with a breakdown of all game endings.
Main Quests
Side Quests
Seven: The Days Long Gone is an isometric action RPG by Polish studio Fool's Theory. The game takes players to a post-apocalyptic world, which is a blend of medieval stylistics and modern technology. In Seven we control Teriel, a thief, and our primary activity is exploration of the big map - a penal colony, where the protagonist was exiled. It's an unwelcoming, dangerous place. To make things more challenging, the locations are vast and multi-layered. Teriel is fortunately able to utilize all sorts of weapons and skills, predominantly those that allow clandestine actions.
Jacek "Stranger" Halas (www.gamepressure.com)
About

Seven The Days Long Gone Game Guide

Author : Jacek "Stranger" Halas for gamepressure.com

Translator : Mateusz "Ictius" Sawka & Krzysztof "Northern" Bartula

last update : December 1, 2017

Use the comments below to submit your updates and corrections to this guide.
Seven: The Days Long Gone
Video Game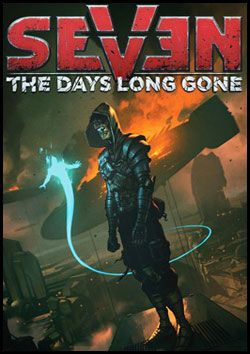 genre: RPG
developer: Fool's Theory
publisher: IMGN.PRO
platform: PC
rated: +18
An isometric post-apocalyptic RPG that came to existence as a result of cooperation between two Polish developers: IMGN.PRO (known for the survival horror Kholat) and Fool's Theory, founded by two ex-CD Projekt RED employees and co-creators of the last two installments in The Witcher series.

The game is set in an original universe called the Empire of Vethrall, which stands on the brink of destruction as a result of mankind's prideful attempt to punish God for the suffering of mortals. The main hero resembles the protagonist of the Thief series – he is a lone wayfarer, and an expert thief. The characteristic feature of Seven is its vast, open world, full of brutality and moral ambivalence. As you play, you can freely explore the game area thanks to the hero's parkour skills. High quality graphics is powered by the Unreal Engine 4.
Seven: The Days Long Gone PC version
System Requirements
Recommended: Intel Core i7-2600K 3.4 GHz / AMD FX-8350 4.0 GHz, 8 GB RAM, graphic card 4 GB GeForce GTX 970 / Radeon R9 290 or better, 10 GB HDD, Windows 10 64-bit
Minimum: Intel Core i5-2400 3.5 GHz / AMD FX-8320 3.5 GHz, 4 GB RAM, graphic card 2 GB GeForce GTX 660 / Radeon 7850 or better, 10 GB HDD, Windows 7/8.1/10 64-bit
More About

Seven: The Days Long Gone

SEVEN: The Days Long Gone Hands-on - intriguing mix of Assassin's Creed, Thief and isometric RPG
The last several years have seen an abundance of classic isometric RPGs. IMGN.PRO went a step further and based their work on a unique setting and movement mechanics that resemble Mirror's Edge rather than Baldur's Gate.

The Witcher 3 and Kholat Devs Are Working on Seven, an Innovative Isometric RPG
IMGN.PRO and Fool's Theory are working on Seven, a 3D isometric RPG with parkour gameplay. Creators of Kholat and ex-CD Projekt RED devs are promising their new project will feature deep, dark story and tough moral choices.