PS5 Guide
Better than ever PS5 guide, best tips and tips for this Sony gaming console. We describe the features, specifications, DualSense controller and SSD hard drive.
Soon, the ninth generation of consoles will be available on the market. We decided to collect all the key aspects regarding Playstation 5 and prepare a comprehensive guide that will be helpful both before and after the console's launch.
We have prepared a guide that will address a variety of issues related to Sony's latest console. This guide is an ideal way to familiarize yourself with the latest information, answer the most important questions, and learn the technical details of the console. In our guide, we present the technical specification as well as discuss both components and power of the console. You will also learn what the Playstation 5 price will be and what the console will look like.
We have also prepared a description of the games that will debut on Playstation 5. This guide touches upon the issue of backward compatibility. Below, you will find details on how many Playstation 4 games will you be able to play on Playstation 5. Will you be able to PS4 and PS3 games? - we've prepared separate chapters on this!
From a technical point of view, we have addressed other important issues in our guide: does Playstation 5 have a VR system? Does PS5 support 4k, or even 8k? What does the disk drive issue look like - will the console support disks, DVDs, and Blu-ray? Moreover, we provide the description of a new pad - dualshock 5.
In the FAQ section, we look at the console's capabilities. Are they suitable for the next generation, or is the Ps5 pro coming too? Will the PS5 console support ray tracing? How powerful will Sony's new console be? A lot of information is already known thanks to Mark Cerny, who spoke about the console's capabilities.
A handful of information about PS5
Here are some of the key information related to the PlaySation 5 console:
It will be a ninth-generation console named simply PlayStation 5.
The console's chief architect is Mark Cerny, who also led the development of PlayStation 4.
Dev kits have long been available to Sony's internal teams as well as external companies, which guarantees that new games will be released soon after the console's launch.
Sony's new console will feature an eight-core (3.5 GHz) and 16-thread AMD processor (based on the Zen 2 architecture) and a graphics chip based on the AMD Radeon Navi card.
This hardware specification guarantees a graphics chip power of 10.28 teraflop.
One of the main advantages of the console is a very fast SSD with a capacity of approx. 850 GB. Using an SSD will greatly increase the working and loading speeds of games.
The console is designed to support Ray-tracing.
The latest Dualshock 5 is to include among others, speaker and microphone as well as adaptive triggers with dynamically changing resistance.
The console is expected to offer backward compatibility for most PS4 titles.
About

PS5 Guide

Author : Grzegorz "Alban3k" Misztal for gamepressure.com

Translator : Jakub "Yossarian" Nowak

last update : June 9, 2020

Use the comments below to submit your updates and corrections to this guide.
Overview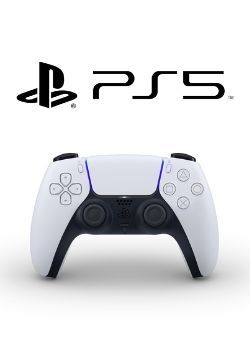 PS5 guide, best tips and tips for this Sony gaming console. We describe the features, specifications, DualSense controller and SSD hard drive.