Hearts of Iron IV Game Guide
To victory! The Hearts of Iron IV guide contains information helpful in starting out in the game. It offers various hints, explanation of the management mechanics, info on playable factions and tips on the best strategies.
This unofficial guide for Hearts of Iron IV contains all necessary information helpful during the first hours of the game. It also contains useful advices related to all aspects of the game's campaign.
In separate chapters of the guide you will find information about specific scenarios available in the game. Each chapter presents gameplay differences and gives you advices helpful in starting the campaign and being successful in the global conflict. In the guide you will also find description of most interesting nations selected by the developers and helpful advices related to selecting a side of the conflict.
Other chapters focus on all basic parts of the gameplay. Politics and diplomacy chapters focus on strengthening position of your country in the arena of international politics. Economy chapters contain a compendium of knowledge about securing a good base for military actions and overall welfare of citizens.
In military sections you will find commentary related to all unit types available in the game and advices related to waging war. In the guide you will also find "General advices" chapter in which you will find advices useful no matter which scenario you select and which nation you will control.
The guide to Hearts of Iron IV contains:
"General advices chapter" containing information about each aspect of gameplay
Detailed description of game interface
Commentary for each playable nation
Explanation of basic country management mechanics
Useful advices related to selecting nation's strategy
Detailed information about technology development
Advices related to international trading and diplomacy
Description of all aspects of industry and production management
Advices and notes related to military actions, creating and supplying armies
"Good start" chapter consisting of condensed advices for beginners and notes related to long-term expansion
The guide was created based on version 1.0.0.19830. (a467) of the game
Lukasz Wisniewski
About

Hearts of Iron IV Game Guide

Author : Lukasz Wisniewski for gamepressure.com

last update : July 6, 2016

Guide contains : 33 pages, 233 images.

Use the comments below to submit your updates and corrections to this guide.
Hot Topics

of Hearts of Iron IV Game Guide
Hearts of Iron IV
Video Game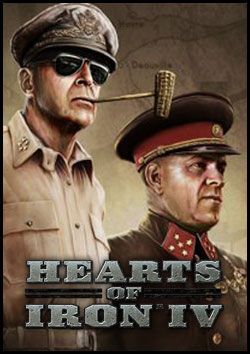 genre: Strategy
developer: Paradox Development Studio
publisher: Paradox Interactive
platform: PC
Hearts of Iron IV is the next installment of the popular strategy game series in which the player conducts the politics of one of the countries from the war and interwar period – the timeline of the game is set between 1936 and 1948. It is up to the player to choose the appropriate strategy and foreign policy and to keep up with enemies in the arms race of the 20th century world.

The distinguishing feature of the forth installment in the Hearts of Iron series, just like in the case of the previous releases, is the very accurate recreation of history, together with the full freedom of creating an alternate future. In Hearts of Iron IV players will meet many real historical characters of World War II (Prime Ministers, Army Commanders and other political and military figures); the armies and technologies of each country are also perfectly accurate. You will also come across countless historical events in the form of smaller quests that you can choose by yourself, which can be considered the next steps in the long journey of your country.

Just like in the previous games of the series, the players can control a country actively engaged in the war effort, like France or Great Britain; they can choose to take a back seat as one of the nations whose political situation is not as obvious as a state of open war, e.g. one of the South American countries. The developers of the game put a lot of effort into reducing the need for micromanagement – a major issue in the previous installments of the series – allowing the player to focus more on the overall strategy and worry less about the specific tactics and movements of every individual army or unit. The possibility of converging several provinces into a region was also introduced into the game, making it easier to manage different parts of your country and its newly conquered territories.
Hearts of Iron IV PC version
System Requirements
Recommended: Intel Core i3-2100 3.1 GHz/AMD Phenom II X4 850 3.3 GHz, 4 GB RAM, graphic card 1 GB GeForce GTX 560 Ti/Radeon 6850 or better, 2 GB HDD, Windows 7/8 64-bit
Minimum: Intel Core 2 Quad 9400 2.66 GHz/AMD Athlon II X4 640 3.0 GHz, 2 GB RAM, graphic card 1 GB GeForce GTX 460/Radeon HD 5770 or better, 2 GB HDD, Windows Vista/7/8
More About

Hearts of Iron IV

The Best PC Strategy Games of Recent Years – Editor's Choice Ranking List
We interviewed our editors about their favorite strategy games. After our research, we have prepared a list of greatest PC strategies which have been released in recent years. Check them out!

Top 20 games of 2016 you might have missed
So many games appear each year that we're never able to check out all of them. Why not take a look at this article in which we've gathered the most interesting titles you might have missed ¬– both big and small?