Far Cry 5 Game Guide
Holy Cow! This guide to Far Cry 5 contains tips and tricks that will help you learn the most important elements of the gameplay (like fishing). We've included complete walkthrough as well as tips to hunting, crafting and trophy guide.
This unofficial guide for Far Cry 5 contains a full set of information that will help you learn the most important elements of the gameplay and to complete the game. The guide is divided into a few bigger sections. The first part is a guidebook that has tips and hints for the most important gameplay mechanics.
Far Cry 5 Starting tips
This part opens with starting tips where you can find numerous descriptions or solutions for problems that you may come across. The next few pages contain information about weapons and equipment, crafting, hunting wild animals, recruiting specialists (companions), character progression and fishing.
Questions and answers
The FAQ section is an important part of this guide. There, you can learn, e.g. how to get rich fast, how to get better weapons and vehicles with ease, how to unlock skill points easier and which skills are worth purchasing, how to increase your inventory, how to capture cult outposts or how to install weapon modifications. The achievement guide is another important part. It contains a full list of Far Cry 5 achievements. Each one of them has detailed a description about their respective requirements as well as commentaries on how to get them faster.
Far Cry 5 Walkthrough
We couldn't forget about adding the complete walkthrough. The descriptions are divided by regions. Each of the three main areas of the game's world has descriptions of the main missions (the main storyline) and the side missions. The descriptions are supplemented by high-quality maps representing all regions of the world with cult outposts, cult properties that can be destroyed and prepper stashes all marked on said maps. The aforementioned stashes also have separate descriptions with pictures that will make the process of finding them easier for you.
Prologue and Dutch's Island
On Dutch's Island you can find 5 main quests, cult locations and prepper stashes.
Main quests on Dutch Island:
Collectibles and secrets on Dutch Island:
Holland Valley
In Holland Valley you can find 6 main quests, may side quests and cult locations as well as prepper stashes.
Main quests in Holland Valley:
Side quests in Holland Valley:
In Holland Valley you can find 6 side-quests: Bear Necessities, Batpism of Fire, Uncrate, Valley Armed Convoy and Exodus. You can find walkthrough for each quest here.
Collectibles and secrets in Holland Valley:
Cult locations and Prepper stashes in Holland Valley.
Henbane River
In Henbane River region in Far Cry 5 you can find 5 main quests as well as many companions (or specialists) to recruit and prepper stashes to find.
Main quests in Henbane River:
Side quests in Henbane River:
River Armed Convoy - destroy culitsts boats.
Collectibles and secrets in Henbane River:
Whitetail Mountains
Side quests in Whitetail Mountains:
Mountain Armed Convoy - attack and destroy Jacob's helicopters.
Collectibles and secrets in Whitetail Mountains:
The Finale
Where it all Began - the game's ending - the final story mission that leads to one of the two available endings.
Maps
Fishing spots:
Trophy Guide to Far Cry 5
Our guide contains list off all trophies and steam achievements in Far Cry 5, as well as complete trophy walkthrough. Here you can learn how to get platinum trophy and some of the hardest achievements like Been There, Done That, Explosive Surprise, Fertilizing the Land, Ignoble Beast, Where's the Beef and many more. See also our video guides dedicated to trophies.
Configuration
Far Cry 5 is another installment of a very popular action series. This time the action takes place in a fictional Hope county, Montana USA. The main goal of the game is to stop a fanatic religious cult led by Joseph Seed. Our character needs to help the local resistance movement and gradually weaken the cult. As always, Far Cry 5 offers a huge open world with a tremendous amount of additional activities that can be completed in-between the story missions.
Jacek "Stranger" Halas (www.gamepressure.com)
About

Far Cry 5 Game Guide

Author : Jacek "Stranger" Halas for gamepressure.com

last update : March 26, 2018

Use the comments below to submit your updates and corrections to this guide.
Far Cry 5
Video Game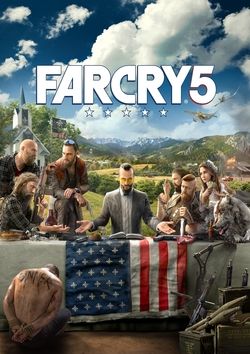 genre: Action
developer: Ubisoft
publisher: Ubisoft
platform: PC, PS4, XONE
Far Cry 5 takes place in the fictional Hope county in the state of Montana. We play as a police officer whose job is to work out and destroy the crime organization that works under the cover of a fanatic religious cult known as The Project At Eden's Gate. The group is led by Joseph Seed who ruthlessly deals with his opponents whom he calls the sinners. Once again we will have to face a sadistical and charismatic villain. We are not alone in our fight. As we play, we will make some allies, like Mary May Fairgrave (Seed kidnapped her family), Nick Rye (a pilot that is concerned with the safety of his family), and pastor Jerome Jeffries (he fights with the fanatics for the greater good).

Just like the previous games of the series, Far Cry 5 is a first-person shooter. We begin our adventure with the creation of our character. For the first time in the history of the series we get to decide about our hero's gender and looks. With time, our hero gets access to various special abilities and talents.

As usual, we get a game with an open world (the biggest in the history of the Far Cry series) made of green fields, riverlands, and mountains. Given its size, vehicles play an important role here. Along with cars (like American muscle cars and trucks), we will have the chance to drive quad bikes, tractors, boats, and fly planes. In our fight against the Seed's Fanatics we will use various guns and cold steel weapons (like clubs, knifes, even pitchforks) which we can modify. We can go full 'Rambo' on our enemies or have a stealthier approach to combat.