Assassin's Creed (XBOX360) Game Guide
Nothing is true, everything is permitted. Full walkthrough, achievements list, flag and templars localizations.
In time of crusades and fierce battles for the Holy Land, nobody's life is easy, even a professional killer's like Altair. In this guide, you will find any help you might need to survive in this cruel world. What is more, we have enclosed information on stealth moving, fighting techniques and a detailed walkthrough of every level of the game. In addition, you will find maps showing locations of all flags and templar knights. Enjoy.
Maciej "Shinobix" Kurowiak
About

Assassin's Creed (XBOX360) Game Guide

Author : Maciej "Shinobix" Kurowiak for gamepressure.com

last update : May 5, 2016

Guide contains : 30 pages, 405 images.

Use the comments below to submit your updates and corrections to this guide.
Hot Topics

of Assassin's Creed (XBOX360) Game Guide
Assassin's Creed
Video Game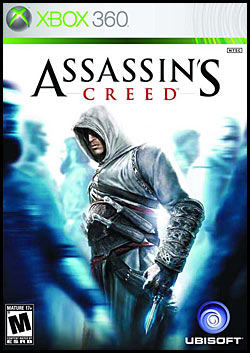 genre: Action
developer: Ubi Soft
publisher: Ubi Soft
platform: XBOX360, PS3
rated: PEGI: 18+ / ESRB: Mature
Jerusalem, 1191 AD.

The Third Crusade is tearing the Holy Land apart. You are an elite Assassin sent to stop the hostilities by suppressing the powers on both the Crusader and Saracen sides. But as you carry out your missions, a conspiracy begins to unfold. You find yourself tangled up in a conflict that threatens not only the Holy Land, but the entire world.

Experience the power of a feared Assassin. Your actions can throw your immediate environment into chaos; and your existence will shape events in this pivotal moment during the Third Crusade.

- Be an Assassin: Plan your attacks, strike without mercy, and fight your way to escape.
- Realistic and responsive environments: Every action has its consequences. Crowds react to your moves, and will either help or hinder you on your quests.
- Action with Total Freedom: Eliminate your targets wherever, whenever, and however. Do whatever it takes to achieve your objectives.