Virginia Game Guide
Welcome to Virginia. Enjoy your stay. The Virginia game guide features a large set of clues and tips as well as a very detailed walkthrough with information on all collectibles. This will allow you to complete the game in 100% and unlock all of the Steam achievements.
The Virginia game guide features a large set of clues and tips, which will allow you to complete the game in 100% and unlock all of the Steam achievements. The main part of the guide provides a detailed description of the playthrough, where you will find precise information about all 42 chapters together with illustrations. Additionally, the text includes a complete list of system requirements, controls and Steam achievements.
Virginia is a production in which we step into the shoes of an FBI agent. The action of the title takes place in the titular town, where we are tasked with finding a missing boy. The entire game is engulfed in an atmosphere of unrest, anxiety and mystery, especially because the plot is presented through image; there are no dialogues.
The Virginia game guide features:
The complete description of the playthrough with screenshots;
General tips and hints;
The description of Steam achievements, together with the ways of completing them;
The list of controls and system requirements;
Przemyslaw Szczerkowski (www.gamepressure.com)
About

Virginia Game Guide

Author : Przemyslaw "Cophelio" Szczerkowski for gamepressure.com

last update : October 13, 2016

Guide contains : 9 pages, 53 images.

Use the comments below to submit your updates and corrections to this guide.
Virginia
Video Game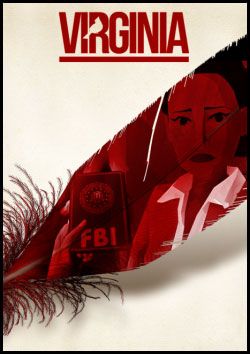 genre: Adventure
developer: Variable State
publisher: 505 Games
platform: PC, PS4, XONE
Virginia is an adventure game developed by an independent studio Variable State. We assume the role of a female FBI agent, having only recently started service. Joined by a partner, we visit a drowsy city, to investigate a case of a young boy's disappearance. The titular state of Virginia has been presented in a fictional version, full of subtle supernatural occurrences, and light science-fiction threads. The developers do not try to hide their inspiration: TV shows from the 90's, including Twin Peaks.

Virginia is a narrative-driven adventure, so it mainly focuses on telling a story, rather than solving riddles. We observe in the events from the position of the female protagonist, but the whole process plays out in a rather unusual way. Variable State's developers went for a more cinematic way of conducting narration, placing a special emphasis on montage, which results in many cinematic shots. The other solution rarely observed in this genre is lack of dialogue.
Virginia PC version
System Requirements
Recommended: Intel Core i5-2300 3.1 GHz/AMD FX-6300 3.5 GHz, 2 GB RAM, graphic card 2 GB GeForce 660/Radeon HD 7870 or better, 5 GB HDD, Windows 10 64-bit
Minimum: Intel Pentium G4400 3.3 GHz, 2 GB RAM, graphic card 1 GB GeForce GTX 650/Radeon R7 250 or better, 5 GB HDD, Windows 7
More About

Virginia

Virginia review – Twin Peaks meets The X-Files
Made with a cinematic flair, Virginia tells a subtly emotional story with image alone. This game is trying to push the envelope when it comes to the limits of walking simulators while creating an eerie atmosphere reminiscent of Twin Peaks or The X-Files.