Rainbow Six: Lockdown Game Guide & Walkthrough
Welcome to the unofficial guide to "Tom Clancy's Rainbow Six: Lockdown". This article consists mainly of a detailed walkthrough that's going to take you through a singleplayer campaign of the game. I have to warn you, though. "Lockdown" is by far less challenging than its predecessors, including the famous "Tom Clancy's Rainbow Six: Raven Shield" PC game. The walkthrough itself should become helpful in dealing with all kinds of problems you may encounter. You should also know that the opponents may appear in different locations, especially when you reload the whole level. Thankfully, for the most of the time you will be encountering them in very similar spots, so you shouldn't be worried too much about that. I'd strongly recommend visiting the rifle range before you decide to begin the main campaign. It would also be wise to memorize some of the most important keys (movement, shooting, team orders...). The game itself is not too complicated, although sometimes you will have to make quick and very precise decisions. Most of the important activities have been reminded in the following walkthrough. You shouldn't also forget about the possibility of saving the game. I'd recommend doing that often, especially since it's not limited in any way. Furthermore, autosaves will appear every time you start a new level. Well... that's it. I hope you'll enjoy the game and my guide. Have fun!
Stranger
About

Rainbow Six: Lockdown Game Guide & Walkthrough

Author : Jacek "Stranger" Halas for gamepressure.com

last update : May 6, 2016

Guide contains : 43 pages, 716 images.

Use the comments below to submit your updates and corrections to this guide.
Hot Topics

of Rainbow Six: Lockdown Game Guide & Walkthrough
Tom Clancy's Rainbow Six: Lockdown
Video Game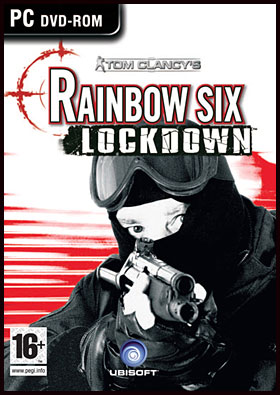 genre: Action
developer: Red Storm
publisher: Ubi Soft
platform: PS2/Xbox/Gamecube
rated: 16+
In this new episode, you lead Team Rainbow, the world's most elite counter-terrorist unit, as they are called into action and unfamiliar territory to battle a bioterrorist threat. Stakes escalate as they are personally targeted by an evil terrorist organization. Used to protecting the lives of others, Team Rainbow must now embark on a mission to fight and save some of their own.
The next Rainbow Six installment will build on the ingredients that have made the Rainbow SixY franchise a runaway success, and will introduce new single player experience with a personal darker storyline, state-of-the-art equipment, and offer gamers the chance to play as two members of Team Rainbow: Ding Chavez, the fearless leader of Team Rainbow, and a new sniper role portrayed by Dieter Weber, who must cover his team's movement with deadly accuracy.
- Stunning graphics and ultra-realistic 'ragdoll' physics deliver staggering realism and spectacular close quarter firefights.
- PlayStationY2 uses a new Graphic engine specially developed by Red Storm Entertainment to reach unprecedented graphical & technical achievement for the most intense gunfights offered to PS2 owners.
- New elite operatives for the most captivating squad-based gameplay : 10 multinational operatives, including Recon, Electronics and Demolitions experts are available to help you to complete the missions as you command your 3 AI-teamates through Quick Order Interface or Voice Command.
- Superior multiplayer experience: One of the best multiplayer games ever returns with the classics: Adversarial & Cooperative modes through Split-Screen & on-line. Additionally exclusive mode make their appearance with:
- PlayStationY 2: New Rivalry Mode pits Rainbow operatives against trained mercenaries in objective-driven team-based adversarial gameplay.
- New XboxY Live 'Career Mode' allows players to create their own operative, improve their skills and acquire extra equipment in all-new objective-based missions.
- Increasingly intelligent enemy A.I.: With every mission, enemies get more dangerous using tactics like flanking, suppression fire and room clearing.
- New weapons and equipment: Complete your mission with all of the tools of the trade including new items like motion trackers, battering rams, and the deadly MTAR-21 micro assault rifle.
- Tension-building sound effects: Creaking floorboards, whispers and hostages begging for their lives hint that a threat lurks around every corner.