They Are Billions Guide
Horde of zombies are coming! Guide for They Are Billions contains many tips and helpful advice to beat the game and stop waves of zombies. Our walkthrough will help you with game mechanics and survive all 80 days and weeks.
Our guide for They Are Billions contains information that can help you complete the game and help you understand its mechanics. Your task is to create a colony and protect it from zombies. This guide can teach you how to survive the beginning of the game. Here, you can find basic tips and descriptions of the mechanics. Thanks to that you will be able to develop your colony fast. You can also learn about necessary aspects of the game that will help you survive. Which machines you need to create to develop your society and, at the same time, be able to defend from zombie hordes. You can learn how to choose a good ground for your crops and how to place quadruple walls or even stronger variants. They Are Billions is an RTS that takes place on a planet infested with zombies. Your task is to create a colony that will be able to defend itself from hordes of undead. The developers decided to use a steampunk setting. Thanks to that the game can appeal to science-fiction and horror fans. The game requires a lot of focus. Players need to develop their colonies, take care of food and resources, create new technologies and fight with zombies all at the same time. The developers used their original engine which allows them to spawn 20,000 zombies on one map. Place one weaker wall or leave a hole in it and your colony will fall.
The guide for They Are Billions contains:
Starting tips
A list of achievements and how to get them,
Description of the game's interface,
Colony's stats,
Ways of developing a colony.
Full list of buildings, allied units and zombie alongside with their statistics, and available Mayors.
Natalia Fras (www.gamepressure.com)
About

They Are Billions Guide

Author : Natalia "N.Tenn" Fras for gamepressure.com

Translator : Mateusz "Ictius" Sawka

Use the comments below to submit your updates and corrections to this guide.
They Are Billions
Video Game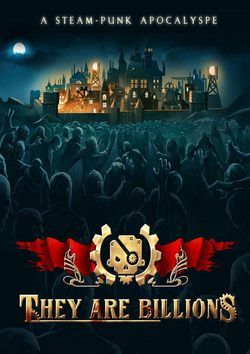 genre: Strategy
developer: Numantian Games
publisher: Numantian Games
platform: PC
They Are Billions is a strategy game where action takes place real-time. We can pause the game anytime we want to give orders. Gameplay is quite different from what we can see in other RTS games. We will spend most of our time on managing and upgrading our colony. We will have to gather resources, build and upgrade buildings, and create an energy network.

Hordes of zombies are a constant threat that we will face. Numantian Games created their own game engine that allows the presence of even twenty thousand units on the map, each of them having its own A.I. Thanks to that, zombies can react to sounds, sights, and will try to avenge their fallen comrades when they will find their bodies.

They Are Billions offers a single player campaign with all kinds of missions and a survival mode where we end up on a procedurally generated map and have to survive for 100 days.
They Are Billions PC version
System Requirements
Recommended: Intel i5 3 GHz, 8 GB RAM, graphic card 4 GB GeForce GTX 670 / Radeon HD 7950 or better, 4 GB HDD, Windows 7/8/10
Minimum: Intel Core 2 Duo 2 GHz, 3 GB RAM, graphic card 1 GB Intel HD 4200 or better, 4 GB HDD, Windows 7/8/10