State of Decay 2 Game Guide
New sandbox full of zombies! The following guide is a compendium of valuable information and comprehensive walkthrough to State of Decay 2 game. Learn how to survive in the post-apocalyptic world full of zombie by knowing all enemies, resources, and heroes.
State of Decay 2 is a third-person, open world survival game set in the times of Zombie apocalypse. Main tasks for the player in State of Decay 2 consist of finding, uniting and leading a group of survivors who are trying to defend their base while keeping their morale high enough so the whole team remains integrated. In the course of the game, the player not only has an opportunity to lead a single hero, but also explores the world as one of many characters, switching from person to person whenever necessary. Thanks to this solution, the player can choose the right character to perform a specific task.
In the State of Decay 2, your main task is to survive. In order to stay alive and in good shape, you need to travel through a vast area controlled by Zombie, look for other survivors, collect resources and set up bases in which your team can safely rest and accumulate supplies: medicines, fuel, building materials, food, ammunition, weapons, and so on. Below, you will find many tips to help you survive in the dangerous world of State of Decay 2.
This game guide to State of Decay 2 provides all the useful information on how to survive in this unpleasant Zombie environment. You will find not only valuable tips, fundamental survival principles, activities to accelerate the development of your community, but also a description of the raw materials, character development, database development and general advice about game mechanics.
The State of Decay 2 contains:
About

State of Decay 2 Game Guide

Author : Lukasz "Qwert" Telesinski for gamepressure.com

Translator : Mateusz "Ictius" Sawka

last update : May 17, 2018

Use the comments below to submit your updates and corrections to this guide.
State of Decay 2
Video Game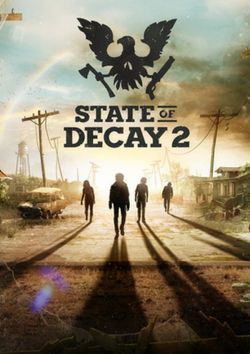 genre: Action
developer: Undead Labs
publisher: Microsoft Studios
platform: PC, XONE
A third-person perspective (TPP) sandbox action game developed by an independent studio Undead Labs. The player is in control of a shopkeeper, Marcus Campbell, and his small group of survivors, who try to survive in a world overrun by zombies.

State of Decay for PC and X360 is a 3D action game set in a world struggling with a plague of zombies. The title was created on a wave of popularity of other products of the type and tries to throw something new into the well-explored genre. The game was developed by Undead Labs Studio. The creators decided to sell their work by means digital distribution only.

In State of Decay the player's main task is to stay alive and to try to rebuild the civilization in a world overrun by zombies. The events are shown from the third person perspective, that is from behind the main character. You can choose from several characters, each of whom has different skills useful in various situations, not only during combat. Moreover, you can give orders to your AI-controlled men.

The game offers considerable freedom along with an open world to explore. You can drive cars in order to move around more quickly. Among various tasks you need to rescue other survivors, gather food, look for weapons and ammunition, explore many secrets, as well as build and expand hideouts.

Due it the subject matter, the Undead Labs game is very brute – you can massacre zombies using not only guns, but also axes, baseball bats, and many other everyday items.