Stardew Valley Game Guide
Life is better on the farm. Short but very comprehensive guide for Stardew Valley will help you survive your first days on the new farm! These several pages present key problems that you may experience while starting the game. Check out our tips & tricks for Stardew Valley!
This guide to Stardew Valley is a short, but comprehensive walkthrough that will help you understand specific issues present in the game. These several pages present key problems that you may experience while starting the game.
Our hints apply to Stardew Valley versions for PC, Switch, PS4 and XONE!
Among other things, here you will learn how to start playing Stardew Valley, what NOT TO DO, as well as solutions to many of the game's tasks and secrets. But first of all, you will learn several important and valuable hints concerning the initial stages of the game.
The guide to Stardew Valley provides:
- An ideal first day - how to start playing?;
- Secrets, puzzles and hints useful to any beginning farmer;
- What NOT TO DO in Stardew Valley?
Maciej Pawlikowski (www.gamepressure.com)
About

Stardew Valley Game Guide

Author : Maciej "Dorian" Pawlikowski for gamepressure.com

Translator : Slawomir "rattchen" Niejadlik

last update : October 13, 2017

Use the comments below to submit your updates and corrections to this guide.
Stardew Valley
Video Game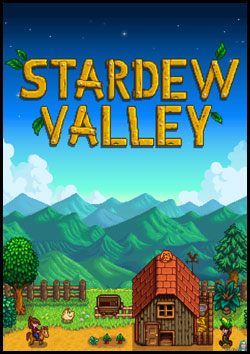 genre: RPG
developer: Concerned Ape
publisher: Chucklefish
platform: PC, PS4, Switch, XONE
Stardew Valley is a sandbox RPG about a farmerís life. It is the debut game of independent studio Concerned Ape.
The story takes place in a fantasy world full of magic. The player becomes a young farmer who becomes an owner of a modest farmland. His ambition is to transform it into a giant farm that generates great profit. The main activity of the player is planting, gathering crops and expanding the farm with new structures and crop types. At the start, the protagonist is a complete greenhorn, but as the game progress he gains experience points that can be spent on developing such skills like farming, mining, fishing and feeding animals. The protagonist is also regularly obtaining new cooking recipes and item construction blueprints.

Stardew Valley doesnít focus solely on farming. Instead, the developers added RPG features. The protagonist participates in the social life of a nearby village inhabited by more than thirty characters. Each of them has own personality and daily, monthly and annual activity plans. Gaining their friendship unlocks access to new quests and earning occasions. It is also possible to get married and have children. Another attraction is archaeological trips during which one can dig out items left by an ancient civilization. Choices made during the campaign will affect the future of the whole valley and will determine whether it will remain a peaceful oasis or fall into hands of the greedy Joja corporation.
Stardew Valley PC version
System Requirements
Minimum: Intel Core 2 Duo 2.4 GHz, 2 GB RAM, graphic card 256 MB GeForce 8400 GTS or better, 500 MB HDD, Windows 7/8/10