Spintires MudRunner Guide and Tips
Hints and tips for playing in the mud. Guide for Spintires: MudRunner contains tips, hints and advice for begginers. In our guide you will find maps, walkthrough and information about new vehicles in the game. You will also learn how to drive your truck through the mud.
The guide for Spintires: Mudrunner contains a number of tips that are a bread and butter of the game. Some of the tips focus on the basic aspects of the gameplay, while the rest involve vehicles, maps or challenges.
Spintires MudRunner Guide For Beginners
The game can prove to be quite challenging during first contact. The biggest challenge lies in getting past various terrain obstacles and driving the vehicles in tough conditions. This chapter contains tips and information about various aspects of the game.
Vehicles in MudRunner
The game offers a wide range of vehicles whose differences may not be discernible at first contact. You should learn which vehicle should be chosen to the task at hand.
Maps and Challenges
Each free ride scenario offers a large map and a number of roads used to transport the valuable timber. Not every road will lead you to your objective, while each map offer different challenges. The guide contains tips and suggested roads for every map found in game. Below you will find walkthrough for Mudrunner, a Spintires game:
About

Spintires MudRunner Guide and Tips

Author : Mateusz "Kozik" Kozik for gamepressure.com

Translator : Filip "Asfalto" Jaron

last update : November 30, 2017

Use the comments below to submit your updates and corrections to this guide.
Spintires: MudRunner
Video Game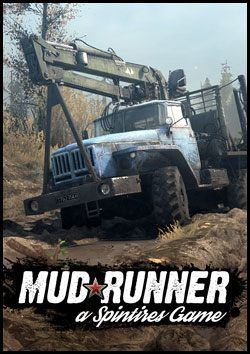 genre: Simulation
developer: Saber Interactive
publisher: Focus Home Interactive
platform: PC, PS4, XONE
An enhanced version of a realistic off-road truck simulator called Spintires. The MudRunner edition offers a new map, new vehicles, improved visuals, and enhanced physics. Unlike the original release, which has been developed by the British Oover, Spintires: MudRunner has been created by Saber Interactive and published by Focus Home Interactive. Moreover, the game is available on PC Windows, PlayStation 4, and Xbox One.

A player once again gets the opportunity to assume the role of a Russian truck driver and traverse the vast regions of Siberia with only a map and a compass. One gets at his disposal 19 different vehicles (the MudRunner edition introduces 13 new machines), which can be modified throughout the game. The additional pieces of equipment feature i.a. wood grapples and hoisting winches – a player can use them to pull his vehicle out of the mud.


Spintires: MudRunner PC version
System Requirements
Recommended: Intel Core 2 Duo 2.5 GHz, 4 GB RAM, graphic card 1 GB GeForce GTX 470 or better, 1 GB HDD, Windows Vista/7/8/10
Minimum: Intel Core 2 Duo 2.0 GHz, 2 GB RAM, graphic card 512 MB GeForce 9600 GT or better, 1 GB HDD, Windows Vista/7/8/10