Sea Of Thieves Game Guide
Aye, aye, captain! The game guide to Sea Of Thieves contains useful tips and tricks to survive in this pirate action game. In our guide, you can find information about combat mechanics and valuable hints on how to choose your ship. Additionally, you will find out more about treasure hunting.
Arrrr! Remember the day when you ALMOST became captain Jack Sparrow - probably because you had yet to read our guide to Sea of Thieves. Here we'll teach you how to sail, hunt for treasures, fight on land and sea, and all the other skills required to become a legendary pirate.
The guide to Sea of Thieves contains all the information necessary to travel and survive in the game world while achieving the game's main objective - to become a legendary pirate, and eventually a legendary captain. The guide includes the descriptions of in-game quest-giving factions and their quests, sailing and combat mechanics, and the things to keep an eye out for when exploring the ocean and its islands.
NOTE
Sea of Thieves is an online MMO game that has launched just recently. For this reason, the guide is still incomplete and contains only basic information on how to start the game. We will be regularly updating it over time as we progress and discover new activities that are waiting later on, mainly in the endgame phase.
Contents of the guide includes
Game world
Appendix
About

Sea Of Thieves Game Guide

Author : Dariusz "DM" Matusiak for gamepressure.com

Translator : Jakub "jbugielski" Bugielski

last update : March 20, 2018

Use the comments below to submit your updates and corrections to this guide.
Sea of Thieves
Video Game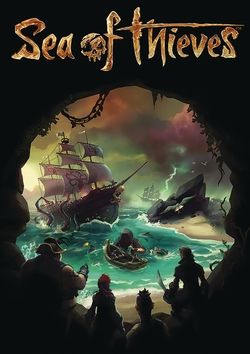 genre: Action
developer: Rare
publisher: Microsoft Studios
platform: XONE, PC
Sea of Thieves is pirate MMO created by Rare studio, known from classic series like Donkey Kong and Banjo-Kazooie, as well as the legendary shooter GoldenEye 007.

The game takes a lot from classic pirate tales, but presents them in rather humoristic way, which is emphasized by its cartoonish visuals. We observe game's world from first-person perspective. We can take part in adventures on both land and sea, with our activities mainly coming down to searching for treasures, fighting monsters or other corsairs and naval battles.

Game focuses on multiplayer mode, allowing us to either cooperate or compete with other players
More About

Sea of Thieves

From the News: Microsoft Studios Becomes Xbox Game Studios; Shadow of the Tomb Raider in Xbox Game Pass
Bye-bye Microsoft Studios, hello Xbox Game Studios. Sea of Theves launches a campaign to invite your friends. New Games in Xbox Game Pass. A deal between Starbreeze, Universal Games and Digital Platforms concerning PayDay: Crime War.

Sea of Thieves HDD space will be cut by half
Rare, the developer of Sea of Thieves, has announced that a new build of the game will be released this February, reducing the game's size.