Q.U.B.E. 2 Game Guide
Let's solve all puzzles! This comprehensive guide to Q.U.B.E. 2 will help you to discover all secrets, puzzles & riddles in this unique game.
The guide to Q.U.B.E. 2 is a full walkthrough, which will help you solve every puzzle you will stumble upon and reach the end of the game. In the Q.U.B.E. 2 guide you will find not only solutions to the puzzles, but also walkthrough and general tips that are worth remembering during the game.
The walkthrough to Q.U.B.E. 2 contains all the necessary information, ready solutions to puzzles and riddles, as well as tips that will help you finish the game. The following guide contains the walkthrough of all of the 11 chapters and the numerous pictures included in the text will guide you, step by step, through the most difficult parts of Q.U.B.E. 2. For convenience of use, all of the interactive elements of the game are named as cubes and were marked in the following way:
Blue cubes

;

Orange cubes

;

Green cubes

.
Lukasz Telesinski (www.gamepressure.com)
About

Q.U.B.E. 2 Game Guide

Author : Lukasz "Qwert" Telesinski for gamepressure.com

last update : April 5, 2018

Use the comments below to submit your updates and corrections to this guide.
Q.U.B.E. 2
Video Game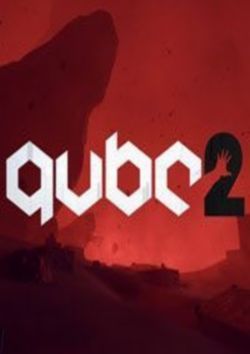 genre: Logic
developer: Toxic Games
publisher: Toxic Games
platform: PC, PS4, XONE
Q.U.B.E. 2 for PC / Windows tells the story of a British archeologist by the name Amelia Cross who wakes up in a weird place constructed out of cubes and seems to be located on an alien planet. Together with her companion – Emma – Amelia tries to solve the mystery of the unusual location, survive, and find the way back home. During the game, players get to learn details from both Amelia's and Emma's backstory. The story was written by Benjamin Hill, known for working on Duskers and Ether One.

Q.U.B.E. 2 for PC / Windows is a logic game in which players observe the action from the first-person perspective. The game might remind you of a popular video game series developed by Valve – Portal. When moving around the 3D environment, one has to solve logic puzzles, which most often require the basic understanding of the laws of physics and the ability to manipulate the in-game world with particular tools. In case of Q.U.B.E. 2, this is a special glove that allows you to influence certain cubes.

In terms of its gameplay mechanics, the game described herein features certain changes in comparison to its predecessor. All the levels have a more open structure and offer players more options and possibilities. Developers have put a strong emphasis on allowing players to find their own solutions, and not following the one and right path.