Overlord Game Guide & Walkthrough
Think Evil, Breed Evil, Seize All. Complete walkthrough, hints, tips.
Welcome to the unofficial game guide to Overlord. It contains detailed descriptions of all the quests awaiting the candidates to the title of the Lord of Darkness. Below, you shall find not only the step-by-step lead through all the quests ahead. Also, you'll find out where to look for the objects which you have to teleport to your tower. They will increase your life force and mana as you progress with your adventures. The guide also gives you detailed descriptions of possible tactics and techniques of defeating major enemies.
Locations' names are highlighted with green. You'll be able to teleport to most of them directly from your tower. Unfortunately, the game doesn't provide a map. Therefore, this guide is prepared as detailed solution to the game. Not only that it tells you exactly what to be done and achieved in particular quests, but also guides you through all the places you visit so you shouldn't get lost.
The game is rather a linear story and not often you have opportunity to go with one quest before completing another (or at least a part of it). It's because either some lands stay locked, or you need a particular kind of your minions which you shall find later on, or there's simply no point in wandering into dangerous places being unprepared for its perils. The sequence suggested is not the only possible, but following the order of events as presented will definitely help you avoiding unnecessary inconvenience.
Overlord is a game allowing you to become a truly black character. You've got two options: being evil or thoroughly evil. In fact, the differences are not significant and with very few exceptions quests remain the same. The following solution describes the first option as default. For the truly evil individuals, there is the chapter Tips for the Evilest. You'll find there tips for concrete tasks where you should take the evil decision and make evil deeds which shall make you the truly evilest of the evil.
Magdalena Tomkowicz & Bartek Kossakowski
About

Overlord Game Guide & Walkthrough

Author : Magdalena Tomkowicz & Bartek Kossakowski for gamepressure.com

last update : May 11, 2016

Guide contains : 47 pages, 314 images.

Use the comments below to submit your updates and corrections to this guide.
Hot Topics

of Overlord Game Guide & Walkthrough
Overlord
Video Game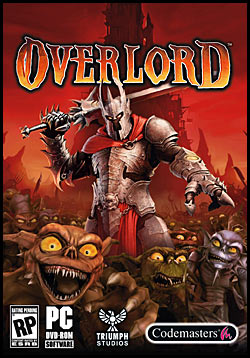 genre: RPG
developer: Triumph Studios
publisher: Codemasters
platform: PC, XBOX360
rated: PEGI 16+ / ERSB: Teen
Controlling a mysterious figure that has inherited the legacy of the evil, long-dead Overlord, the player emerges, near death, from the ruins of the old Overlord's Dark Tower. Only the player's actions will determine if they will rise to become the new all-powerful Overlord; it's all down to how much of a bad ass they want to be in order to succeed… evil or really evil! Played out with plenty of black humour and dark irony, the game will immerse players in twisted parodies of classic fantasy scenarios and characters.



- Overlord's key innovation is the introduction of an array of impish creatures – the Minions. They believe you are the old Overlord reborn and will use their unique skills to fetch, fight and die for you.
- Throughout the game players will actively control a horde of these gremlin-like critters and they'll follow your every instruction no matter how despotic or, for the Minions, life threatening it is.
Overlord PC version
System Requirements
Recommended: Processor Intel Core 2 Duo 2.4 GHz, 1 GB RAM, graphic card 256MB (GeForce 7800 or better), 4.5 GB HDD, Windows XP/Vista