Lake Ridden Game Guide
Guide and walkthrough for Lake Ridden game. The Lake Ridden Game Guide is a collection of detailed info needed for its stress-free completion. It contains a description of the passage of its next stages and the solution of all the puzzles, along with a list of the necessary codes and sequences.
The guide to Lake Ridden features practical advice that will help you during the game. You will learn what to do to beat the game, how to solve all puzzles and how to unlock puzzles. In this guide, you will find a detailed walkthrough for each riddle present in the game. This will enable you to complete Lake Ridden easily. Lake Ridden is an adventure game focused on solving complex puzzles. During the game, you will assume the role of Marie, a thirteen-year-old girl who goes with her younger sister to a picnic in the forest. During the second night, the sisters have a quarrel and the younger girl disappears. The players' task is to find her. By looking for her the player will enter many weird places and will discover the truth about the forest.
To make things clearer, more complex riddle solutions are marked with colors: Codes, items you must take and Sound riddles.
The guide to Lake Ridden features:
Location of puzzles,
Description of each puzzle,
Walkthrough,
Advice for the beginning.
Natalia "N.Tenn" Fras
About

Lake Ridden Game Guide

Author : Natalia "N.Tenn" Fras for gamepressure.com

Translator : Michal "Czarny Wilk" Grygorcewicz

last update : May 14, 2018

Use the comments below to submit your updates and corrections to this guide.
Lake Ridden
Video Game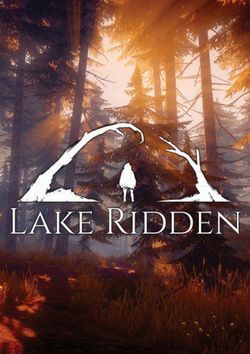 genre: Adventure
developer: Midnight Hub
publisher: Midnight Hub
platform: PC
Lake Ridden for PC is an FPP adventure game by indie Swedish studio Midnight Hub. It is the studio's first production, although its members have plenty of experience, having worked for such companies as Mojang, Paradox or Tarsier Studios.

The game is set in 1988. You play as the 13-years-old Marie, who goes camping in a forest in Maine with her younger sister and friends as the summer's end draws near. At first everything seems fine, but an argument breaks out on the second night and the sister runs away into the woods. You immediately go searching for her, wishing to apologize, but instead you find a forgotten village, which only ends up creating more problems for you.

Lake Ridden is focused on the plot and puzzles. You discover parts of the story by solving the puzzles and finding various objects, such as your sister's notebook or backpack. The puzzles are diverse: sometimes you only have to find a certain object, but other times you need to conduct a more in-depth investigation or contact the people who used to live in the village. It quickly turns out that it's not quite abandoned and hides a dark secret.

Even though it's not a horror game, Lake Ridden features an unsettling atmosphere, created by modest sound effects, mostly consisting of the sounds of the forest. Moreover, the gameplay is set during nighttime, and a flashlight is your only source of light.