Imperator Rome Guide
Divide and conquer! In the guide to Imperator Rome you will find tips to help you start your conquest of Europe. Which nation is the best to play and how to win wars? Discover tricks for a good start in our Imperator Rome Guide.
Guide to Imperator: Rome is a set of complete information, advice and strategies for managing an ancient state. You will find here a lot of information and advice, concerning all the initial stages of the game and many basic mechanics and functions. You will find out which nation is the best choice for your first games and which should be avoided. In this guide you will also find information about economy, war diplomacy and many other aspects of this complex game.
What do I need to know about Imperator: Rome?
Imperator: Rome enables you to manage an ancient state in Europe, North Africa and Asia. The gameplay is very similar to many other titles from Paradox studio, such as Europa Universalis, Crusader Kings or Stellaris. Each nation has numerous stats, residents and characters that have can influence foreign and internal policy. What's more, each army is commanded by a character who has a loyalty factor and can betray you and start fighting against your troops. It is necessary to develop technologies, cities and provinces as well as traditions unique to a given cultural group.
Similarities to other games from Paradox
If you have played other games develop by Paradox, their so-called Grand Strategies, you will notice a lot of similar elements and minor differences.
Europa Universalis - the diplomacy system, map, wars and technological development are very similar or even identical in Imperator: Rome
Crusader Kings had an extensive character system. A similar system exists in Imperator: Rome, but is not as crucial as in CK. You can assign characters as commanders or diplomats, but you don't manage a family. Death of a character is not as painful as in CK and does not announce an imminent end of the game.
Hearts of Iron introduced a system of units and more detailed battles when compared to other titles. Imperator: Rome has more military units than EU, but not as much as HoI. The differences between units, as well as battle mechanics and tactics system place Imperator: Rome somewhere between the two.
Victoria and Stellaris - both titles had an extensive population system. Imperator: Rome has a similar division. There are 4 classes of residents here, which is a much limited number than in Victoria, but the residents are often called pops like in Stellaris. Each city has a specific number of pops that can be promoted to another class or moved to other regions.
Imperator: Rome has the most detailed map division model, including the smallest territorial units, e.g. cities (and not provinces as in the previous part). A group of cities forms provinces, and these in turn form regions. All this is to enable a more detailed view of the world and to facilitate cultural division and the creation of new national borders.
Which nation to choose for the first game?
It's best to choose the eponymous Rome. While it's not the strongest state early in the game, it has the potential to become the greatest power. It's located in a good geographical and geopolitical position. You have small, quarrelsome neighbors, but you have to take care of the economy and increase your military power.
Rome is one of the most interesting choice. It's a republic, so you will have to deal with the political plays of your power-hungry senators and be wary of the loyalty of your generals. An unsatisfied general can declare independence, and the more legions he has under his command, the worse for the Republic. Especially if his name is Julius.
Another interesting choice is either Carthage or Egypt. Both countries have large territories, and strong economies. Carthage is a power at sea and can decide about everything that happens in the Mediterranean Sea. Egypt has the most fertile lands in the game and the most populated regions. Thanks to this, gold from trade and taxes flows into your treasury like a river. With the appropriate funding you are able not only to efficiently lead your country, but also wage wars and conquer new territories without any problems.
Map modes
Imperator: Rome has a number of map modes that will make your life easier and help you rule the country.
Map modes will enable you to achieve better control of situation in your state, monitor the status of economy, unrests in the provinces and relations between your neighbors.
The game has the following map modes:
Geographical. It will enable you to quickly preview the areas you want to conquer. One glance, and you'll be able to see where are the deserts, forests or hills are and adjust your strategy accordingly.
Political. This is the mode in which you will spend most of the time. All cities and provinces will be marked with a color unique to the nation and the name of the country. This way you can easily see who own the territories.
Diplomatic. This mode will enable you to see what relations you have with other countries and what may connect your neighbors with your enemies or friends. This information is valuable and enables you to plan your foreign policy and future conquests.
Religious. In Imperator: Rome there are many different religions that affect the stability of the state and individual regions.
Trade.
Population.
Technology.
Coming Soon

Imperator Rome Guide

This is upcoming Game Guide and Walkthrough for Imperator: Rome Video Game.

We are working on it now. We want to publish this Game Guide close to Imperator: Rome Release Date.
Imperator: Rome
Video Game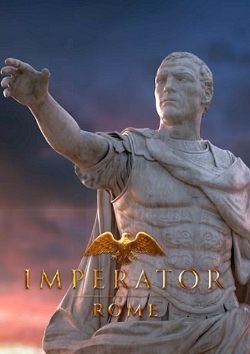 genre: Strategy
developer: Paradox Development Studio
publisher: Paradox Interactive
platform: PC
Imperator: Rome is a strategy game, in which you lead an ancient nation. It was developed by Paradox Developments, known for such productions as Crusader Kings II, Hearts of Iron IV, Stellaris, and Europa Universalis IV.

The spatial and temporal setting of the game is wider than the title might suggest. The gameplay starts during the golden age of Athens. Imperator: Rome features an enormous map, stretching from the Pillars of Hercules (the ancient same of the Rock Gibraltar) to India. You can conquer every nation visible on the map.

Imperator: Rome builds on ideas from other games of the studio. It's a large scale strategy game, focusing on managing your nation instead of managing your troops in battle. Mechanics-wise, it's similar to other Paradox games, such as Crusader Kings II, Europa Universalis IV, and Hearts of Iron IV, and it utilizes an upgraded version of the engine those games used as well.

The mechanics are very expansive, and your range of duties is quite wide: you have to manage the domestic and international politics, economy, scientific research, and social structure, as well as military operations.