Horizon Zero Dawn Game Guide
You know, Aloy, we really are the last of us. Horizon Zero Dawn game guide and The Frozen Wilds Guide contain a detailed walkthrough for the main and side missions. It also offers maps, locations of collectibles, describes the crafting system and provides combat tips as well as all cauldrons.
The guide to Horizon: Zero Dawn is a comprehensive and detailed walkthrough. On the following pages you will find information on secrets, collectibles, difficult opponents and machines, skills and overriding, as well as trophies, fast travel, and tallnecks. Our guide includes an update for the DLC Horizon Zero Dawn: The Frozen Wilds.
Trophies - The Trophy Guide.
Starting tips - the most important advice and tips that will help you throughout the game!
Horizon Zero Dawn: The Frozen Wilds Game Guide
The guide to Horizon Zero Dawn: The Frozen Wilds contains mostly maps and secrets. We've marked all the collectibles on the maps and described the difficult elements of the game.
Walkthrough
Our walkthrough and solution for the main and side quests includes starting tips that will help you complete each mission. We've described all main quests, such as The Proving, Revenge of the Nora, The City of The Sun, Grave-Hoard or Deep Secrets of Earth, as well as side quests: The Ancient Armory or Heap of Trouble.
Maps and secrets
The guide also contains detailed location maps with secrets. On each map we've marked vantages, banuk figures, ancient vessels and metal flowers. We didn't forget about audio, hologram, or text datapoints either.
Cauldrons
The cauldron is a special type of dungeon in the game. Here you'll find a walkthrough for each cauldron that will help you complete it and defeat its boss.
Character progression
In the Character progression part of the guide to Horizon Zero Dawn you will find description of Aloy's skills and advice on which to choose. It also describes the gear and armor sets in the game. The crafting system has also been described, as well as the most important parts of weapons and gear.
Override - guide to overriding machines in Horizon Zero Dawn.
Machines
Horizon Zero Dawn game guide also contains a section devoted to machines - we describe each machine and ways to overriding them.
Machines - machines that can be overridden in the PSI, XI, SIGMA, RHO and ZETA cauldrons.
FAQ - the best tips
Agnieszka Adamus and Lukasz Wisniewski (www.gamepressure.com)
About

Horizon Zero Dawn Game Guide

Author : Lukasz "Keczup" Wisniewski for gamepressure.com

Guide contains : 101 pages, 408 images, 21 maps and annotated illustrations.
The Frozen Wilds Guide
Last update : November 14, 2017, visit The Frozen Wilds Guide
Strategy Guide and Walkthrough
Last update : April 28, 2017, visit Strategy Guide and Walkthrough
World Atlas
Last update : April 12, 2017, visit World Atlas
Use the comments below to submit your updates and corrections to this guide.
Hot Topics

of Horizon Zero Dawn Game Guide
Horizon Zero Dawn
Video Game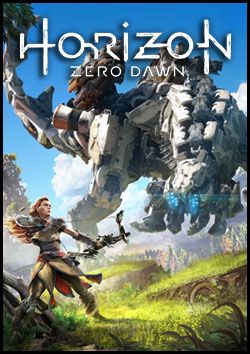 genre: Action
developer: Guerrilla Games
publisher: Sony Interactive Entertainment
platform: PS4
Horizon: Zero Dawn is a PlayStation 4 exclusive. We get an action game with RPG elements set in a future world, in which modern cities crumbled, human civilization collapsed, and the world has been overrun by mechanical beasts.

The game is set in an open world, long after the mankind's golden age has passed. After our grand civilization collapsed, those who survived the shift of power started to gather in tribes living in the wild territories of the new world. This, however, does not mean that all of advanced technology has been lost. Quite the opposite in fact - the world was dominated by machines that somehow evolved into intelligent animal life forms. You play as Aloy, a young, adventurous girl, who tries to uncover secrets of the lost civilization, while striving to learn her own destiny.

On her journey, the heroine has to take on various challenges and face numerous hostile machines. Fortunately, she is not a damsel in distress type of woman, but an excellent warrior, perfectly capable of standing her ground even in the toughest of situations.

Gameplay-wise the title is a combination of TPP action adventure and a stealth game, supplemented with RPG elements. In combat you have to learn the opponents' behavior patterns and make use of their weak spots.
More About

Horizon: Zero Dawn

Are platform-exclusive games a good idea?
Adored by some and despised by others – the exclusives are a mighty weapon in every war for supremacy among gaming platforms. But could things be better off without them?

The most anticipated games of 2017 – Gamepressure picks
2016 has just come to an end. It's high time we thought about what to play in 2017. Here are the top 30 picks of our editorial team.