Hiveswap Game Guide
Solve the big mystery! Our guide for Hiveswap consist complete and helpful walkthrough. We added the achievements section and chapters about combat and gameplay. With our guide you can complete the game with great fun.
The Hiveswap Act 1 gameguide consist mostly of the walkthrough. The initial chapters contain the achievements and ways of completing them. Another important portion of the guide contains the info on the specific locations in the game, where we break down the potential threats and ways of completing these levels. The guide also contains a section on combat, which will allow a better understanding of this segment of the game. Overall, this guide should allow you to finish the game more easily and effortlessly. You'll find an exact description of the tasks that you have to fulfill in order to finish every individual level. Hiveswap Act 1 is a point-n-click game that tells the story of a siblings, who try to survive an invasion of monsters. You play as Joey Claire, her brother, Jude Harley and Xefros Tritoha. Together, they're trying to persevere in the dangerous environment.
The guide to HIVESWAP ACT 1 contains:
A comprehensive walkthrough;
Achievement list and guide to completing them;
Combat mechanics breakdown;
Natalia "N.Tenn" Fras (www.gamepressure.com)
About

Hiveswap Game Guide

Author : Natalia "N.Tenn" Fras for gamepressure.com

Translator : Jakub "Yossarian" Nowak

last update : October 9, 2017

Use the comments below to submit your updates and corrections to this guide.
Hiveswap
Video Game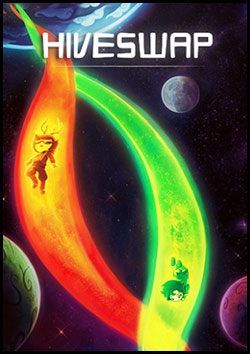 genre: Point-and-click
developer: What Pumpkin
publisher: What Pumpkin
platform: PC
rated: +16
Hiveswap is an adventure game based on the popular webcomic Homestick. It was developed by What Pumpkin, founded by the original comic's creator, and funded through a crowdfunding campaign on Kickstarter, gathering almost 2.5 million dollars.

Hiveswap features colorful hand-drawn visuals, clearly based on the original comic. The character models have been designed with care and are smoothly animated; during the game, depending on the situation, they change their outfits, expressions, etc.

Homestuck follows the story of a group of 13-years-old internet friends, who decide to play an unusual game. The comic begins in a typical, ordinary room of one of the characters. The plot, however, quickly becomes intense and increasingly complex.

Hiveswap is a spin-off of the comic and is based on certain parts of it, while at the same time telling its own story. It focuses, on a 13-years-old Joey Claire, who finds herself transported to an alien planet, when her house is suddenly attacked by monsters.