Hitman: Absolution Game Guide
It's not every day I get to kill me a legend. This unofficial guide to Hitman: Absolution game contains very detailed walkthrough of its all 20 chapters.
This unofficial guide to Hitman: Absolution game contains very detailed walkthrough of its all 20 chapters. In description of every chapter you'll find information on:
careful exploration of available locations;
penetration of inaccessible places;
dealing with opponents;
skillful using of disguises and remaining hidden;
obtaining the best score;
possible ways of eliminating main targets.
The guide also contains useful tips for players starting their experience with the game, as well as description of optional challenges connected with given chapter.
Color marking in the guide
Following color markings are used in this guide:
Brown

indicates important non playable characters in the game (both allies and Hitman's opponents.

Green

indicates less important items in the game (for example melee weapons, medicine).

Orange

indicates items helpful in completing missions (keycards for example), secrets (evidence for example) and interactive devices (for example control panels opening gates).
Technical note: Missions described in this guide were tested on different difficulty levels, mainly to check differences in the presence of opponents. So as a result, depending on your difficulty level, you might not encounter some of described enemies or they might be encountered in other places.
Jacek "Stranger" Halas
Translated by: Maciej "Elrond" Myrcha
About

Hitman: Absolution Game Guide

Author : Jacek "Stranger" Halas for gamepressure.com

Translator : Maciej "Elrond" Myrcha & Jacek "Stranger" Halas

last update : May 5, 2016

Guide contains : 172 pages, 1322 images.

Use the comments below to submit your updates and corrections to this guide.
Hot Topics

of Hitman: Absolution Game Guide
Hitman: Absolution
Video Game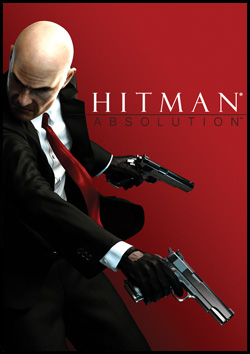 genre: Action
developer: IO Interactive
publisher: Square-Enix / Eidos
platform: PC, XBOX360, PS3
rated: PEGI: Age 18+ / ESRB: Mature
Hitman Absolution follows Agent 47, a cold blooded assassin, who takes on his most dangerous contract to date. Betrayed by those he trusted and hunted by the police, he finds himself at the centre of a dark conspiracy and must embark on a personal journey through a corrupt and twisted world, in his search for the truth.

Showcasing IO Interactive's new proprietary Glacier 2 technology, the game has been built from the ground up, boasting a cinematic story, distinctive art direction and highly original game design, HITMAN ABSOLUTION combines much loved classic gameplay with completely new features for the Hitman franchise.

Features:

AI

When building Glacier 2, IO focused on developing a comprehensive intelligence spectrum – something which sets HITMAN ABSOLUTION apart from other games. Characters come to life as players make their way through the world, reacting to subtle changes in the environment around them and showing a wide range of reactions, varying in degrees of urgency. We've also replaced trial and error gameplay with the introduction of an AI attention meter which is an analogue awareness system, triggered by sight, sound and environment, this allows Agent 47 to 'surf' on the fringes of being discovered.

Choice

One of the key elements to Hitman games is freedom of choice. Like a predator stalking its prey, Agent 47 typically enjoys observing people, listening to the personal stories of richly detailed characters before making the hit. Remember that even in the most hopeless situation, there's always a choice.

Instinct

A new feature in HITMAN ABSOLUTION is Instinct. This manifests itself in a number of different ways and allows the player to see the world through the eyes of Agent 47. It can be used to show the player how Agent 47 would expect an enemy to patrol a certain area, or view an environment as Agent 47 would; looking for ways to escape, weapons to use or shortcuts to take. It can also be used when in disguise to hide in plain sight by impersonating the character who's clothes you have stolen. Instinct is a dynamic economy that is earned by executing classic Hitman gameplay moves.

Disguises

Disguises have always been a central feature in the Hitman universe, in HITMAN ABSOLUTION IO has taken this feature to the next level with a huge variety of disguises which you can take, not only to blend in visually but also to impersonate a victim. But once in disguise the world around you will react to that disguise, so choose carefully.

Living breathing world

All of these features are underpinned by a world of richly detailed and varied environments and strikingly individual and interesting characters with a dark IO twist. The power of the Glacier 2 has allowed IO to realise a level of human behaviour and visual fidelity which brings HITMAN ABSOLUTION to life; combining much loved classic gameplay with completely new gameplay features for the Hitman franchise.
Hitman: Absolution PC version
System Requirements
Recommended: Core 2 Duo 2.66 GHz, 2 GB RAM, graphic card 512 MB (GeForce 8600 or better), Windows Vista(SP2)/7(SP1)