Gran Turismo Sport Game Guide
Racing is life! Everything before and after is just waiting. Start winning in the best PlayStation 4 network racing game. In the Gran Turismo Sport Game Guide, you will find valuable tips, guidelines, and rules of driving modes that can greatly ease your way to the top podium in any race.
Our Game Guide to Gran Turismo Sport describes the rules of multiplayer races in the Sport mode. You will learn how to increase your chances of winning against other players by choosing the right car, what mistakes should be avoided when racing, and how to beat tracks faster by improving your lap times. You will also find the basics of the car paint editor, which will allow you to create unique patterns, visible to other players.
Winning your very first race in Gran Turismo Sport can be quite a challenge, but it also gives tremendous satisfaction.
Tips and trophies
Races - General rules
Races - Practical advice
Racing line and going for the apex
Sound matters - what can you learn from the sound of your tires in Gran Turismo Sport.
Technical aspects
Pad or steering wheel - a hard choice.
Types of assists - ABS, TCS, gearbox, and line.
Which camera view - best cameras for racing in GT Sport.
Painting your car
The three fundamental rules
First, it is important to learn the three fundamental rules; second, it is essential that you accept and follow them:
Learn the track by heart;
Care not about failures, be they yours or others' fault;
Always fight to the very end!
Dariusz "DM" Matusiak (https://www.gamepressure.com)
About

Gran Turismo Sport Game Guide

Author : Dariusz "DM" Matusiak for gamepressure.com

Translator : Mateusz "Anger" Arendt

last update : July 11, 2018

Use the comments below to submit your updates and corrections to this guide.
Gran Turismo Sport
Video Game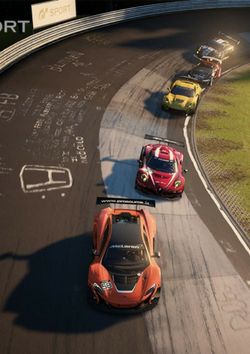 genre: Racing
developer: Polyphony Digital
publisher: Sony Interactive Entertainment
platform: PS4
Gran Turismo Sport is the first Gran Turismo game to be a PlayStation 4 exclusive. Although it's release takes place more than two years after Gran Turismo 6, the game is not considered to be the seventh installment in the main series. Nevertheless, it offers more than just a small taste of the next big game, as it was in the case of Gran Turismo 5 Prologue. Just as all the previous games in the franchise, Gran Turismo Sport too was developed by Japanese studio Polyphony Digital, a Sony Computer Entertainment subsidiary.

The overall gameplay mechanics in Gran Turismo Sport are the same as before. You climb up the ladder of a professional driver career, taking part in more and more prestigious races and driving more powerful cars. There are many vehicles to choose from, including sport cars, dedicated racing or concept cars. You can take them for a spin on many existing racing tracks from all over the world.

Gran Turismo Sport puts even more emphasis on motor sports through the competitive multiplayer. Polyphony Digital started a partnership with FIA organization (Federation Internationale de l'Automobile) to let players compete for prestigious titles and cups, just as real race drivers do. The competition has two layers – players can either represent their own country or selected car manufacturers.

Together with the authentic competitive experience comes an enhanced, realistic driving model. However, the developer took special care to make Gran Turismo Sport as accessible to players as the previous installments.

Since this is a PlayStation 4 game, Gran Turismo Sport offers much better visuals than the previous games. It is also noteworthy that the title supports PlayStation VR headset.
More About

Gran Turismo Sport