Get Even Game Guide
Solve a mystery of your mind!This guide for Get Even contains all information that are necessary to complete the game and to find all secrets. Guide includes useful exploration, avoiding or engaging in fights tips. You'll find here also details for completing each stage and memories.
Visit the guide for a complete walkthrough and the locations of all secrets. Moreover, the guide contains a list of all trophies (with separate walkthroughs and notes) and a separate chapter that offers quick and accessible tips for the difficult segments of the game (e.g. puzzles).
The walkthrough, which is the main part of the guide, offers extensive tips for levels and flashback sequences. The individual missions offer support for puzzles, combat, as well as choices and their possible consequences. Moreover, we've listed the locations of collectibles (notes, documents, posters, recordings) and usable evidence. The flashbacks often take form of hidden rooms with unique collectibles - the guide contains walkthroughs for each one of them.
Get Even is a game created by a Polish studio called The Farm 51. This title combines elements of exploration and action game where you can fight with enemies directly. One of the game's strong points is the intriguing story. In Get Even you play as detective Cole Black who wakes up in psychiatric hospital, suffering from some memory losses. The main character, under supervision of mysterious Red, starts using a special VR goggles that allow him to relieve memories again. Black thinks that this will help him in escaping from the hospital, get the missing pieces and learn what have happened.
Jacek "Stranger" Halas (www.gamepressure.com)
About

Get Even Game Guide

Author : Jacek "Stranger" Halas for gamepressure.com

Guide contains : 57 pages, 299 images.
Trophy Guide
Last update : July 06, 2017, visit Trophy Guide
Game Guide
Last update : June 28, 2017, visit Game Guide
Use the comments below to submit your updates and corrections to this guide.
Hot Topics

of Get Even Game Guide
Get Even
Video Game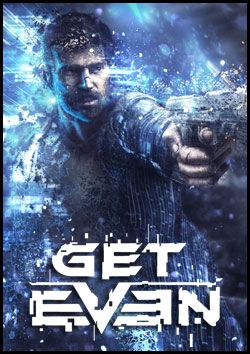 genre: Action
developer: The Farm 51
publisher: Bandai Namco Entertainment
platform: PC, XONE, PS4
Get Even is a first-person perspective game, which combines elements of shooter, adventure, and psychological horror. Although the title includes shooting sequences in a form typical of FPS titles, much more emphasis was put on unraveling the game's complex story.

In Get Even the player assumes the role of a man named Cole Black – private detective and merciless mercenary. One day, Black wakes up in an old, devastated asylum. His memory is a clean sheet – the only thing he can remember is a failed attempt at saving a young girl who had been held captive with explosives attached to her body.f

The Farm 51's game has much more in common with adventure games and horrors rather than popular first-person shooters, in which you mow down entire enemy squads single-handedly. True, there are many moments in Get Even when using a weapon is necessary, however, the emphasis is on unraveling the mysteries of the game's tangled plot, psychedelic even.
Get Even PC version
System Requirements
Recommended: Intel Core i7 3770 3.4 GHz, 8 GB RAM, graphic card Nvidia GeForce GTX 970 / AMD Radeon RX 480 or better, 40 GB HDD, Windows 7/8/10 64-bit
Minimum: Intel Core i5-2500K 3.3GHz, 8 GB RAM, graphic card Nvidia GeForce GTX 660 / AMD Radeon HD 7870 or better, 40 GB HDD, Windows 7/8/10 64-bit
More About

Get Even