Gears 5 Guide
Discover the planet of Sera and the secret of the Locust In guide you will find a detailed walkthrough of all missions in the single player campaign with exhaustive describes of hard moments and bosses fights. It also contains locations of all collectibles and list of achievements.
The detailed walkthrough found in this Gears 5 guide has information about all the side missions. Moreover, the walkthrough has locations of collectibles and components that can be found in the missions. All collectibles available in Gears 5 were also listed in a separate section. To help you find all 90 collectibles, we have divided them into 4 acts and separate chapters. The guide also has detailed screenshots that should help you complete Gears 5.
Our Gears 5 guide contains:
Campaign walkthrough
Tips for battles with the main bosses
Locations of all components
Location of all collectibles
Can you save your campaign progress at any time?
Unfortunately, Gears 5 doesn't have to option to save the game whenever you want. The campaign progress is saved automatically when you reach specific checkpoints. To make sure that the game progress is saved, pay attention to the game's logo appearing in the lower-left corner of the screen.
Is Gears 5 difficult?
Starting the campaign in Gears 5, you can choose the following difficulty levels: beginner, intermediate, experienced and insane. If you play on beginner or intermediate, you shouldn't have problems with completing the game in 100%. More experienced players can try their hand at the other two options.
How many acts are in Gears 5?
Gears 5 has 4 main acts divided into chapters. They differ in duration and level of challenge. Some acts have only two chapters, and others can have five.
How many collectibles are hidden in Gears 5?
Gears 5 has 90 collectibles! Some of them are easy to spot. However, there are a few of them that require exploration.
What are Gears 5's system requirements?
Operating system: Windows 10
Processor: AMD FX-6000 / Intel i3 Skylake
RAM: 8GB
Video card: Radeon R9 280 or RX 560 / GeForce GTX 760 or GTX 1050
Disk space: 15 GB (for testing)The Plot of Gears 5
Gears 5 is a direct continuation of the previous part of the series. The main character of the title, Kate Diaz, accompanied by Delmont Walker, begins a long journey through the planet Sera. The protagonist tries to learn about the origin of Locust and discover the source of her nightmares. Also, she believes that some sort of message may be hidden in her dreams.
Does the game offer multiplayer mode?
Yes. In Gears 5, in addition to the single-player mode, you may enjoy the game in a three-player cooperation mode.
Will Gears 5 receive any DLC or expansion sets?
Yes. Gears 5 will receive add-ons containing new maps. All of them will be available for free, for all players who have purchased the basic version of the game.
Gears 5 - Game editions
Gears 5, apart from the standard edition containing only a copy of the game, has two other variants. These are the following:
Ultimate Edition
This edition will include the Ultimate Edition Character Pack, 30 days of Boost, a steelbook and stickers. Anyone who decides to purchase it will have access to the game four days before its release. It costs $79.99.
Collector's Edition Jack Drone
In this release, in addition to the game you will find: flying replica of Jack, a remote controller, premium collector's box, custom display stand, exclusive in-game Jack skin, embroidered DBi patch, DBi collector's booklet, DBi ID badge with Gears 5 lanyard, Jack schematic art print, Alex Ross steelbook case. The price of this edition is $269.99.
Gears 5 - Minimum system requirements
Operating system: Windows 10
Processor: AMD FX-6000 / Intel i3 Skylake
RAM: 8 GB
Video card: Radeon R9 280 or RX 560 / GeForce GTX 760 or GTX 1050
Hard disk space: 15 GB (for testing)
About

Gears 5 Guide

Author : Agnieszka "aadamus" Adamus & Lukasz "Qwert" Telesinski for gamepressure.com

Translator : Filip "Mithgandir" Liebert

Use the comments below to submit your updates and corrections to this guide.
Gears 5
Video Game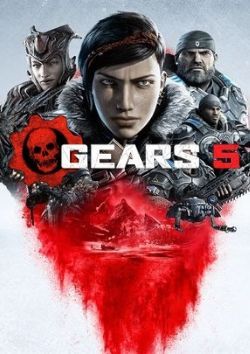 genre: Action
developer: The Coalition / Black Tusk Studios
publisher: Xbox Game Studios / Microsoft Studios
platform: XONE, PC
The fifth installment in the popular TPS series, in which the players assume the role of Kait Diaz, a character featured in Gears of War 4.

Gears of War 5 is the fifth (if one does not count the prequel titled Gears of War: Judgment) installment in the best-selling shooter series that is overwatched by The Coalition ever since the development of the fourth installment (before, the developers at Epic Games were responsible for the series).

The action of Gears of War 5 is set after the events featured in Gears of War 4. The main protagonist is Kait Diaz who, accompanied by Delmont Walker, set off on a long journey through picturesque, yet dangerous areas of planet Sera. Kait wants to learn more about the Locust origins and discover the mystery behind nightmares she has been having that, according to her, hide some sort of message.

In the game, players observe the action from the third person perspective (TPP). On their adventures, players can visit diverse locations including deserts, sunken ruins, and a giant glacier. Once again, gameplay involves mainly fighting opponents (comprising regular units and powerful bosses) using an elaborate arsenal of weapons and gadgets. In combat, switching between available gear is equally important and using the cover system.

Gears of War 5 revolves around the story campaign, players can complete alone or in a 2-player cooperative mode (either online or split screen). In addition, the game features a competitive multiplayer mode.

Gears of War 5 is based on the Unreal Engine 4 technology and uses its full potential. The game delivers high-quality 3D visuals. Moreover, the game runs on Xbox One X and powerful PCs with 4K resolution and 60 FPS.
Gears 5 PC version
System Requirements
Recommended: Intel Core i5 / AMD Ryzen 3, 8 GB RAM, graphic card 4 GB GeForce GTX 970 / Radeon RX 570 or better, Windows 10
Minimum: Intel Core i3 / AMD FX-6000, 8 GB RAM, graphic card 2 GB GeForce GTX 760 / 3 GB Radeon R9 280 or better, Windows 10
More About

Gears 5

The dawn of Steam? The Netflix of gaming is getting closer
Although the hegemony of Steam is unquestionable today, itís quite possible that within the next decade, the platform will actually share the demise of boxed games that it created itself.