Full Throttle Remastered Game Guide
Some joker took my keys. I don't like that. Full Throttle Remastered game guide offers a detailed description of all activities which are necessary to complete a playthrough and reach the ending. It also contains tips on finishing the arcade scenes in the game.
The Full Throttle Game Guide offers useful guidance when playing through this adventure game with arcade elements, where the action takes place in the unspecified future. It contains a precise, illustrated walkthrough of the consecutive adventures of Ben, the leader of the Polecats gang, who has been wrongfully accused of killing Malcolm Corley, the CEO of the Corley Motors corporation.
For the purposes of navigating the guide each chapter is divided into sections which describe the tasks that need to be performed. Additionally, arcade challenges have been provided with headings, which will allow you to quickly locate them in the text. All necessary items the hero should collect have been highlighted in red, obtained achievements with orange, and relevant information in bold.
Ben does not want to allow the motorcycle manufacturer Corley Motors to be taken over by the insidious Adrian Ripburger, who plans to change the profile of the company. He also has to prove his innocence. The mysterious Maureen helps him in achieving both of these goals.
In the Full Throttle Game Guide you will find:
A detailed description of all activities which are necessary to continue the playthrough and to reach the ending;
guidelines to all arcade challenges together with the corresponding images.
a breakdown of all those fabulous occasions on which you get achievements (plus a comprehensive achievement list in the last chapter).
Katarzyna "Kayleigh" Michalowska (www.gamepressure.com)
About

Full Throttle Remastered Game Guide

Author : Anna "Kayleigh, kassiopestka, pestka" Nowopolska for gamepressure.com

last update : April 5, 2017

Guide contains : 13 pages, 64 images.

Use the comments below to submit your updates and corrections to this guide.
Hot Topics

of Full Throttle Remastered Game Guide
Full Throttle Remastered
Video Game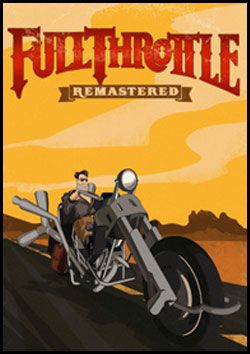 genre: Adventure
developer: Double Fine Productions, Inc.
publisher: Double Fine Productions, Inc.
platform: PC, PSV, PS4
Full Throttle Remastered is a remaster of the 1995 LucasArts classic point-and-click adventure game. The game takes place in a rather grim future of 2040, where all classic vehicles were replaced by machines that use antigravity-based engines. We begin our story in a desertic part of the United States, near the highway number 9. We play as a motorcycle gang leader Ben who is wrongfuly accused of murdering Malcolm Corley, the owner of the last company that produces traditional motorbikes.

Just like the original, Full Throttle Remastered is in many ways a traditional point-and-click adventure game. The game also has some arcade elements, like the highway motorcycle races during which we will have to fight with our opponents by kicking them or hitting with a chain. Unlike in other LucasArts games, the protagonist of Full Throttle can die.

The biggest improvement we will find in Full Throttle Remastered are of course the game's visuals. New high resolutions were created by the authors, and each animation frame was redrawn by hand. Additionally, the overall audio quality was also improved.
Full Throttle Remastered PC version
System Requirements
Minimum: Intel Core 2 Duo 2.4 GHz/AMD Athlon X2 2.8 GHz, 4 GB RAM, graphic card 896 MB GeForce GTX 260/1 GB Radeon HD 4870 or better, 8 GB HDD, Windows 7/8/10
More About

Full Throttle Remastered

Full Throttle Remastered gets first trailer – it brings back memories
Back in the days of yore LucasArts created a couple of great adventure games. One of them, Full Throttle, is getting a remastered version, which has now received its first trailer.

Full Throttle Remastered is Double Fine Productions' next project
Full Throttle, a classic adventure game from Lucas Arts, is getting a remastered edition. Double Fine Productions are planning to give the game brand new graphics and enhanced audio.