Farming Simulator 17 Game Guide
Yeehaw! The Farming Simulator 17 guide contains the most important information about the game, like tillage and inbreeding, using vehicles, modification and exploitation, cultivars, fertilization, investments and crucial strategies.
Farming Simulator 17 game guide contains the most important pieces of information about the game. You will find step by step instruction on how to deal with tillage and inbreeding, basic information on vehicles, modification and exploitation. Furthermore, all the available cultivars and means of fertilization were described. Some tips on forestry were also provided. For those, who want to quickly start the gameplay, we prepared some crucial strategies for both available locations: Sosnovka and Goldcrest Valley. Apart from that, we provided some hints concerning investments, and the final part of the guide is devoted to control settings and available achievements.
Farming Simulator 17 is a continuation of a game that is still considered the best farming simulator. The engine focuses on details such as changes of the weather or prices, many certified vehicles, and 10 types of cultivars and farm animals. Players interested in forestry won't be disappointed as well. This version will be available on new generation consoles.
Farming Simulator 17 game guide contains:
Detailed instructions for beginners,
Examples of strategies to start the game successfully,
Tips on cultivars and farm animals ,
Description of available vehicles and their modification and exploitation,
Hints on available plants and methods of fertilization,
Information on investments and forestry,
List of achievements and controls.
Patrick "YxU" Homa (www.gamepressure.com)
About

Farming Simulator 17 Game Guide

Author : Patrick "yxu" Homa for gamepressure.com

Translator : Karol "kdrozynski" Drozynski

last update : November 28, 2016

Guide contains : 33 pages, 167 images.

Use the comments below to submit your updates and corrections to this guide.
Hot Topics

of Farming Simulator 17 Game Guide
Farming Simulator 17
Video Game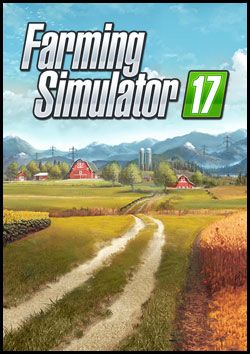 genre: Simulation
developer: GIANTS Software
publisher: Focus Home Interactive
platform: PC, PS4, XONE
Farming Simulator 17 is another installment in the Farming Simulator series. The game let's the players to experience the work of a modern farmer, who has to take care of his endeavor. In order to do so, players have to obtain machines and proper tools needed for sawing, planting, and gathering crops, as well as moving the goods around.

As every year, the new edition brings a whole bunch of upgrades allowing total command over the virtual farm. There are new crops now: sunflower and soy. The players can now use "their own" hands instead of machines to do the simplest tasks, such as relocating wood. A new possibility to earn money are "side-quests", offered by other farmers, controlled by the AI. A lot of new hardware has appeared in this game: the developers give the players over 200 machines from 60 fully licensed manufacturers, including both companies already known from the previous parts (New Holland or Ponsse), as well as entirely new (Massey-Ferguson ir Lely). T

The gameplay takes place on maps known from Farming Simulator 15 – complimented by the Sosnovka environment (which was already present in the gold edition of the previous game). A new map is also available, set at the coast of Pacific.
Farming Simulator 17 PC version
System Requirements
Minimum: Dual Core 2.0 GHz, 2 GB RAM, graphic card 1 GB GeForce GTS 450/Radeon HD 6770 or better, 6 GB HDD, Windows 7/8/10