Extinction Game Guide
Raveni must die! Defend your people in battle with Ogres! Our guide and solution will help you to collect all medals and solve all secrets of Extinction. Prepare yourself once again - stand up and fight!
Raveni must die! In the Extinction game guide you will find answers for all the questions concerning the game and with the help of the walkthrough you will complete the game, gaining all of the medals and developing your character to the maximum.
The Extinction guide describes the basics of the game, such as controls, interface, as well as methods of combating each individual enemy. Here you will also find a detailed description of all of the missions of the main campaign, as well as the descriptions of all of the remaining game modes.
Basics
At the beginning of the guide, you will find information about the basics of the game, allowing you to start the adventure in the world of Extinction. Those are:
Walkthrough - Main missions
The walkthrough of the single player campaign is the main part of the following guide. Here you can find detailed description of the individual quests and strategies that must be used to complete specific stages with the best possible result.
Appendix
Damian "Kubik" Ozzy (www.gamepressure.com)
About

Extinction Game Guide

Author : Damian "Ozzy" Kubik for gamepressure.com

Stage of progress : 10% completed, last update : April 11, 2018

Use the comments below to submit your updates and corrections to this guide.
Extinction
Video Game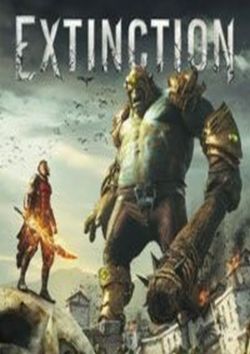 genre: Action
developer: Iron Galaxy Studios
publisher: Maximum Games
platform: PC, PS4, XONE
Humans always fought each other, but the real threat was somewhere else, in the form of giant ogres who finally decided to step out of the shadows. They can be only fought by specially trained Sentinels. Sadly there arenít many of these Sentinels left. The player assumes the role of one of the last ones, named Avila, who must face the giant creatures.

Extinction for PC / Windows is an action game focused primarily on combat. The developers implemented an interesting combat system that combines action with tactics. Avil is a very agile and fast warrior who can immediately climb on buildings, run on walls and jump. He uses a special whip that can be used not only for moving, but in combat as well. Due to their size, the ogres are dangerous enemies. Before the player can kill such beast, first he must disarm it and attack its weak points. Only after that it is possible to perform an execution.