ePub Reader Recommendation
How To View and Read ePUB Game Guides at gamepressure.com
---
The recommended programs
The gamepressure.com guides, which come in the EPUB format, require special software for viewing electronic books. Although there is a wide selection of those, available in the market, they offer varying quality. To ensure the highest comfort of viewing our guides, we recommend either of the two, free-to download, programs:
Moon Reader for the Android operating system and Calibre for the computers with the Windows, OS X and Linux operating systems. The former is available in the Google Play store, whereas the latter can be found on the program's official website. Apple computer users can also make use of free application iBooks available on the App Store.
Setting up of Moon Reader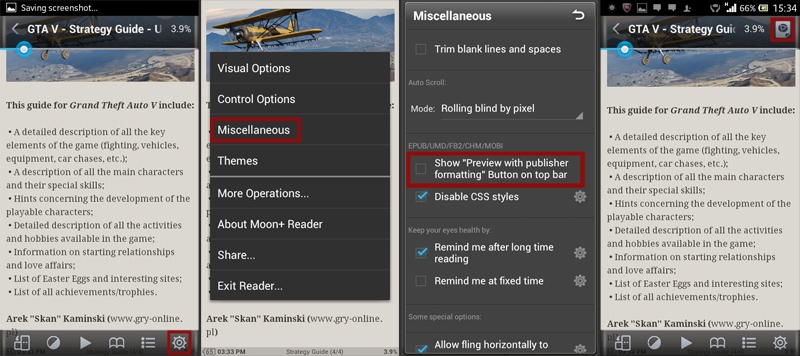 Moon Reader works well for viewing our guides but, before it is used, you need to make sure that it has been set up properly. To do that, you need to access the program's options (by clicking on the icon in the lower-right corner of the screen), select "Miscellaneous", and check the box next to Show "Preview with publisher formatting" button on the bar. This way, you will make an icon appear in the upper-right corner. By clicking it, you can either enable, or disable the publisher's formatting. This option is worth using in the case of any problems while viewing the guide.
Other applications
Still, if you decide to use a different application of your preference, we recommend that you donít use its default formatting of the books. It can make screenshots overlap or may not handle displaying tables that well. Nevertheless, each reader should be capable of displaying the guides.
In some cases, the guide may contain large-sized maps. To be able to view them, the reader must be equipped with an option to increase or reduce the size of screens. The best way to check if the program that you are using on your mobile device meets these requirements, is to hold your finger down on the screen, or double-tap it. If the option does not work, we recommend that you install a different app.
We hope that with the information we provided, you will experience no problems using our guides, and completing games will become a pure joy. Have a nice play!
Great ePUB Game Guides and Walkthroughs at http://guides.gamepressure.com/