Dragon Ball FighterZ Game Guide
Kamehameha! Dragon Ball FighterZ Game Guide contains important walkthrough to help you understand mechanics of combat for each character. You'll also find various tips about game modes and list of special moves of fighters from Dragon Ball universe.
Kamehameha! The guide to Dragon Ball Fighter Z contains the most important info related to this title. You'll learn about the available heroes, familiarize yourself with the mechanics of combat and learn how to execute spectacular combinations. You'll also learn the differences between the various gameplay modes and find some valuable tips.
Basics
This chapter contains the basic information regarding the game itself, including the system requirements of the PC version, the game's controls, or the basic tips for playing the game. An additional chapter was dedicated to the Story Mode, which offers over 15 hours of gameplay!
FAQ
This chapter contains answers to frequently asked questions. You'll learn about secret characters, the rewards for gathering all the 7 dragon balls, or how to choose a fighter for yourself.
Characters
The hero roster contains 24 heroes, each possessing unique moves and a distinct fighting style. We've dedicated a lot of space to the descriptions of the most popular fighters, such as:
Grzegorz Misztal (www.gamepressure.com)
About

Dragon Ball FighterZ Game Guide

Author : Grzegorz "Alban3k" Misztal for gamepressure.com

Translator : Filip "Asfalto" Jaron

last update : January 25, 2018

Use the comments below to submit your updates and corrections to this guide.
Dragon Ball FighterZ
Video Game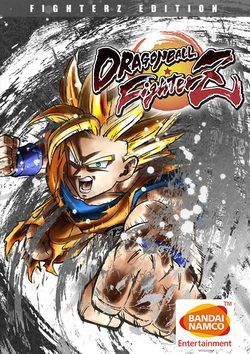 genre: Fighting
developer: Arc System Works
publisher: Bandai Namco Entertainment
platform: PC, XONE, PS4
Dragon Ball FighterZ is a fighter game where characters from the popular Dragon Ball manga (created by Akira Toriyama) fight against each other. It was developed by the experienced Japanese studio Arc System works (creators of Guilty Gear and BlazBlue fighting game series) and published by Bandai Namco.

Dragon Ball FighterZ uses the Tag Battle mechanics known from Marvel vs. Capcom and Tekken Tag Tournament series. We begin with the creation of a team of three characters. When in combat, we can switch between them in order to do powerful combo strikes and special attacks. The fight ends when all of our characters are left with zero health points.
Dragon Ball FighterZ PC version
System Requirements
Recommended: Intel Core i7-3770 3.4 GHz / AMD Ryzen 5 1400 3.2 GHz, 8 GB RAM, graphic card 2 GB GeForce GTX 660 / Radeon HD 7870 or better, Windows 7/8/10 64-bit
Minimum: Intel Core i5-3470 3.2 GHz / AMD FX-4350 4.2 GHz, 4 GB RAM, graphic card 1 GB GeForce GTX 650 Ti / Radeon HD 6870 or better, Windows 7/8/10 64-bit
More About

Dragon Ball FighterZ

Dragon Ball FighterZ story mode and new playable characters revealed
V-Jump and Weekly Jump magazines have revealed several playable characters included in Dragon Ball FighterZ as well as a story mode.