Conan Exiles Game Guide
How to became a conscientious barbarian? Conan Exiles game giude is a compendium of knowledge, enabling you to a successive gameplay. You will learn, for what to look at the beginning of the game, where to find for raw materials, convert them into items and how to fight and conquer.
In the Conan Exiles game guide you will find a handful of survival tips in Conan's inhospitable universe of barbarians. The guide opens with chapters entitled "The first 10 steps" and "Starting Tips", from which you will learn what to look for at the initial stages of the game, where to find the right raw materials, how to extract them and what items are best to create at the very beginning of the game.
In the "Starting Tips" section you will also find information about the basic game features, such as cooking, building, creating items and collecting raw materials. A separate chapter is devoted to the needs of our hero, i.e. eating and drinking, which are one of the primary activities in the game that have to be kept in mind at all times.
In the following part of this guide you will find tips on combat and more advanced issues related to construction and item crafting. There's also a description of "travel" quests and a trophy hunter's guide - a description of all the rewards available on PlayStation 4, along with details on how to achieve them.
The last element of the guide is a map, which contains locations of major opponents, raw materials and curiosities, so you won't get lost in the quite big world of Conan.
Conan Exiles guide contains:
Coming Soon

Conan Exiles Game Guide

This is upcoming Game Guide and Walkthrough for Conan Exiles Video Game.

We are working on it now. We want to publish this Game Guide close to Conan Exiles Release Date.
Conan Exiles
Video Game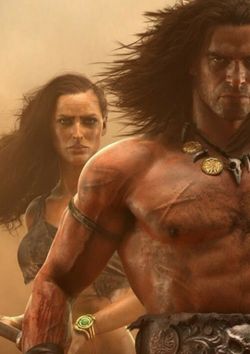 genre: Action
developer: FunCom
publisher: Deep Silver / Koch Media
platform: PC, XONE, PS4
Conan Exiles for PC, PS4 and XONE is an open-world action-RPG focusing on survival-related aspects and developed by FunCom. The team is known mainly for the well-received Age of Conan: Hyborian Adventures, but they also created such acclaimed titles as Anarchy Online or The Longest Journey.

Conan Exiles is set in the fictional universe of Conan the Barbarian. The player assumes the role of an outcast who traverses dangerous wastelands. Although the plot is merely an excuse for the game's complex mechanics, the player gradually gets acquainted with the rich history of this world, which has remained hidden inside ancient ruins. Prehistoric civilizations left their marks here in the form of books, but also different inscriptions describing various events from the past.

Conan Exiles for PC, PS4 and XONE features both first and third-person perspective. The player explores a diverse world of an open structure, thus the adventure leads through savannas, deserts, cavernous canyons, picturesque valleys, or the aforementioned ruins. Survival-related aspects constitute the backbone of the experience – although the player begins without any tools, they soon begin to craft their first, simplistic items and weapons. The game's complex crafting system allows the player to create useful items, as well as more and more deadly weapons, but apart from that, one is capable of constructing buildings, which can in turn become parts of large towns or fortresses. Through conquest and enslavement, the player gains different kinds of subordinates, such as warriors, archers or artists.

The world of Conan Exiles is not a safe place. Different threats are made up here of unpredictable weather conditions (above all, sand storms), aggressive fauna, and human hostiles: various bandits and the titular exiles – those of the latter kind are worth taking alive, because their hearts can be sacrificed at the altars of gods. The in-game deities can decide to bestow a gift upon the player-controlled character (in the form of a unique ability), which oftentimes influences the course of a fight to a large extent. Combat is real-time here and the player makes use of melee weapons (spears, swords), ranged (bows) and the player-controlled exile's unique abilities. Both the physical and mental states of the protagonist are reflected in the actual gameplay – the player needs to be taking care about their character's health, but also their level of sanity, because exploring mysterious ruins with unknown, dark forces residing in-there, can drive the protagonist insane.

Conan Exiles for PC, PS4 and XONE can be played solo or among others. The player can choose a public server to play in, but they can also set up their own, on the basis of the pre-selected rules and options.

Conan Exiles for PC, PS4 and XONE offers high-quality, three-dimensional visuals. What stands out here, is mainly the game's destructible environment created with care for detail, as well as complex character and creature models. The experience is complemented by the atmospheric soundtrack.
More About

Conan Exiles

Conan Exiles - a new survival sandbox has just been announced
Funcom once again explores the universe of Conan. This time around we will have a chance to play as one of the exiles that will need to fight to survive in a brutal open world. The game is set for release on Steam Early Access this summer.