Company of Heroes Game Guide
Command the company that changed the face of history Complete walkthrough and hints.
Welcome in my walkthrough for "Company of Heroes", a breath-taking Real Time Strategy game concentrating on U.S. military actions in Normandy during WW II.
You will find here a complete solution for each of 15 missions (I've played on normal level of difficulty). I added also precise maps showing enemy positions - red icons on these maps (blue are allied units). All icons come from game and mean as below:
Primary objectives are denoted with bold red text in this document, secondary are green and additional tasks (after completing them you'll be awarded with medals) are marked blue.
Enjoy,
One Good Fellow
About

Company of Heroes Game Guide

Author : Pawel "PaZur76" Surowiec for gamepressure.com

last update : May 5, 2016

Guide contains : 17 pages, 284 images.

Use the comments below to submit your updates and corrections to this guide.
Hot Topics

of Company of Heroes Game Guide
Company of Heroes
Video Game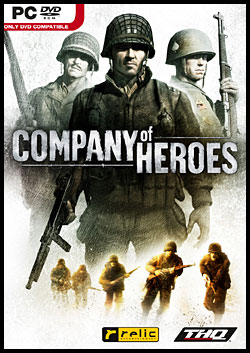 genre: Strategy
developer: Relic Entertainment
publisher: THQ
platform: PC
rated: 18+
From the studio that brought you the blockbuster Game of the Year titles Homeworld and Warhammer 40,000: Dawn of War comes the next revolution in action strategy. Company of Heroes is a WW2 Real Time Strategy game that brings to life the journey of the brave men of Able Company as they fight across Europe in the greatest war mankind has ever known.
From the opening shots of the D-Day invasion of Normandy players will find themselves immersed in a rich single player campaign. Experience the cinematic intensity, courage, and bravery of the heroes that defined a generation, set against the backdrop of the most dynamic battlefield ever seen in a game.
- Essence Engine – Relic's next generation cutting-edge engine provides graphics quality and a physics driven world that is unprecedented in an RTS.
- Environmental Strategy – Real-time physics and a completely destructible environment guarantee no two battles ever play out in the same way. Destroy anything and re-shape the battlefield in your image! Use buildings and terrain to your advantage, or deny them to the enemy.
- Living Soldiers - Advanced squad AI brings your soldiers to life as they interact with their changing environment, take cover, and execute advanced squad tactics to eliminate all enemy opposition.
- 2-8 players MP competition via Lan or Internet – Go online with friends and join in the ultimate battle of Axis versus Allies.
Company of Heroes PC version
System Requirements
Recommended: Pentium 4 3 GHz, 1 GB RAM, graphic card 256MB (GeForce 6600 or better), 6.5 GB HDD, Windows XP