Borderlands 3 Guide
Looting the Sirens The Borderlands 3 Guide will help you select your character, learn about available guns and understand all the other game mechanics. It also contains a well-illustrated walkthrough of the main story and side quests.
Borderlands 3 is another part of a popular series of loot-shooters. This time the players will visit not only Pandora, but also a number of other planets. The game guide contains important information about the game. You will find out, among other things, about playable characters and the gameplay.
The guide is based on press materials provided by authors and distributors. Its contents are subject to change.
Agnieszka Adamus (www.gamepressure.com)
Briefly about Borderlands 3
At this point, little is known about the storyline. The action of Borderlands 3 is supposed to take place several years after the events known from the previous game. The main antagonists of the game are Troy and Tyreen Calypso, known as Calypso Twins. They belong to the Sirens and lead a gang called Children of the Vault.
For the first time you will leave Pandora and use Sanctuary 3 to conquer other planets, such as Promethea.
How to use Sanctuary 3?
Sanctuary 3 works is a mobile base in Borderlands 3, which, with a special panel, allows you to travel between planets. In addition, this ship is filled with all sorts of shops where you can buy new models of weapons.
You will also find a deposit to store your selected inventory items. Once aboard, you can also find a Golden Chest. If you have one of the keys designed for this chest, you can open it to get legendary equipment.
Aboard Sanctuary 3, you will also find a panel that allows you to change the appearance of your character.
Can I play Borderlands 3 by myself?
Yes. In Borderlands 3 you can play on your own or in a co-op mode, which consists of up to four players.
Borderlands 3 - So Happy Together Trailer
Can I purchase Borderlands 3 on Steam?
For now, the game is an exclusive position of the Epic Games Store. Borderlands 3 will become available on Steam one year after its premiere.
How long will it take to complete Borderlands 3?
According to the game developers, the main storyline should provide 30 hours of gameplay.
Will we encounter characters from previous parts of the game in Borderlands 3?
Yes. Although they won't come back as playable characters, they will appear in the game. Some of the most important characters you'll find in Borderlands 3 are: Lilith, Claptrap, Brick, and Tiny Tina.
Will Borderlands 3 have a cross-play feature?
Yes. Borderlands 3 will offer cross-play support, however it will not be available right after the premiere.
Borderlands 3 - collector's edition content
In addition to the standard version, Borderlands 3will also offer a collector's edition which includes: the full version of the game, steelbook, season pass, a set of gold skins for weapons, additional digital content, a replica of Diamond Loot Chest, 10 character figurines, 5 lithographs of game heroes, 4 vault key keychains and a cloth map of the galaxy.
Coming Soon

Borderlands 3 Guide

This is upcoming Game Guide and Walkthrough for Borderlands 3 Video Game.

We are working on it now. We want to publish this Game Guide close to Borderlands 3 Release Date.
Borderlands 3
Video Game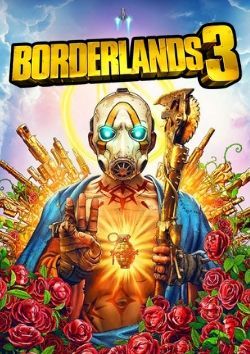 genre: Action
developer: Gearbox Software
publisher: 2K Games
platform: PC, PS4, XONE
The third main part of the famous Borderlands series - humorous and cooperative FPP shooter with a strong RPG element. The action takes place a few years after the Borderlands 2 events.

Borderlands 3 is the third main installment of a recognized series of FPP shooters with RPG elements, which has significantly contributed to the separation of the looter shooter genre (it also includes such productions as Tom Clancy's The Division, Anthem or Warframe). Production introduces a number of changes and improvements to the known formula. Gearbox Software is responsible for developing and publishing this title (authors of previous parts of the cycle, as well as Brothers in Arms series, among others).

Borderlands 3 takes place five years after the events of the second part. This time the plot focuses on the Sirens, i.e. women endowed with mysterious, superhuman powers, which play an important role in the universe of this series. That being is the main antagonist of the production. Together with her twin brother and the cult of Children of the Vault, the mystic takes on the players.

We start the game by choosing one of the four available characters. Here you will find an expert in hand-to-hand combat (this time the character of this type is also a Siren), as well as heroes able to call on useful creatures or using the help of robots and gadgets. Importantly, each hero now has more than one special ability ("active" abilities, i.e. attacks or powers that we use during combat).

The basis of the game is traveling quite large locations (this time we move not only on the planet Pandora, we can also get to other places) and fighting with opponents as part of the main and side tasks. As the adventure progresses, we gradually develop our character and acquire equipment. Just like in games belonging to the hack'n'slash sub-genre, equipment falling out of enemies and found in chests has randomly generated statistics and properties (some guitars have, for example, attacks based on elements, with the number of the latter being higher than before). What's more, the weapons can now be modified with replaceable parts.

Another noteworthy change concerns the behavior of NPCs in combat (we are talking about heroes controlled by AI, who help us in some missions). In the "three" they can come to the aid of the knocked down hero and put him back on his feet (earlier only other players on the team could do this).

In Borderlands 3 we can play alone or in cooperation with others, but the game has been designed primarily for cooperation mode.

Borderlands 3 has a pleasant three-dimensional graphic design that looks quite similar to the previous parts of the cycle. The creators once again took advantage of cell shading technique, thanks to which the characters and locations look as if they were taken out of a comic book or animated film. The exaggerated and humorous artistic style typical for this series also returns.