Call of Duty Black Ops 4 Guide and Tips
Zombie and battle royale? Ok. Guide to Black Ops 4 is primarily a collection of practical tips for beginners in multiplayer games. We describe all game modes, including Zombie mode and battle royale mode (blackout).
The Call of Duty: Black Ops IV game guide describes the system of online and multiplayer battles in this popular tactical FPS series. On the following pages you will find general information: a description of available game modes, a list of character classes (specialists), as well as tips and tricks for some of them. In addition, there is an FAQ with answers to the most frequently asked questions and problems regarding the game. The core of the guide consists of game basics description, including: a description of the interface, support awards and general advice on the game. As usual, on the last pages of this guide you will find a summary and description of the available trophies / achievements that you can unlock during the game.
Call of Duty: Black Ops IV is another part of a well-known series of FPS games. This time, you won't find a single player mode in the game: the available gameplay is only in form of a multiplayer game (online or local). There are three modes: classic multiplayer mode, divided into as many as 8 forms of matches; Blackout mode: the new Battle Royale mode, where you try to survive on a map full of players using the found equipment; Zombie (IX) - cooperation mode, in which you fight against opponents controlled by the AI. For those who have immersed themselves in the Black Ops story, there's a lot of interesting main storyline content in the form of videos. You have to complete training missions to gain access to all of the videos.
Patrick "YxU" Homa (www.gamepressure.com)
Key chapters
How to change and customize specialists weapons or equipment?
How do I earn support points and customize rewards for point streak?
How to quickly gain experience level for your account?
Game Modes
Default Multiplayer Modes
Hardcore Mode
Blackout Mode
User Interface
User interface looks simple and consists of following items:
Map with team score

(1)

- number of points / respawns and optionally the remaining time of the game.
Side panel

(2)

- indicates the amount of health and optionally our hero's armor; above the info about last kills between players will appear.
Specialists abilities

(3)

- from the left: healing, special skill, basic skill. When they light up in yellow, you can use them. The white border around the icon indicates the time it takes to load, which decreases with the time of the round and your progress. When a special skill is limited in time, the frame will disappear and indicate the remaining time.
Weapon

(4)

- your current weapon, the amount of ammunition in the magazine and the number of magazines available; when it ends, replace the weapon with another one or look for a place to reload the weapon.
Rewards for score streaks - support

(5)

- If you manage to score large amounts of points without dying, you will unlock further prizes for score streaks: they allow you to call for support. Prizes can be selected from the lobby before the start of the game. The yellow bar moves up and when it's full, you'll unlock the next item. The numbers at the bottom indicate how many points you still need to score (counter down).
Item to pick up

(6)

- if you're standing on an item that you can pick up, you'll see a preview of it here. If it's a weapon, you'll also find out what improvements it has. However, these modifications are marked with pictures, so you need to associate them with your weapon to understand their meaning.
Remember that while playing in Hardcore mode the whole user interface disappears.
Specialists skills and abilities
Each of the specialists has special skills: the basic one for each class is healing, and two unique abilities. Both regenerate over time, and earning extra points for combat and support speeds up the renewal process. One skill (visible to the right) is often reproducible and easy to unlock. The skill in the middle is unique and you need to spend more time unlocking it - sometimes it can happen even once per game. Special skills usually provide a time-boost, i.e. improving the character's parameters directly or through the use of a special gadget: shield, weapon or device. They are limited in time or quantity, but in case of death you lose all unused time/resources. In order to unlock skills and abilities faster, it is necessary to:
Help and aid your companions,
Kill enemies,
Complete mission objectives.
An additional and helpful option is the use of a special gadget, during the build of the equipment class: Equipment load. Choosing it allows you to renew your skills much faster - both passively and with score streaks.
General Tips
In the initial phases of the game (though not only) collect weapons from defeated enemies. Most often they will be better than yours, or at least with better gadgets and aiming sight! Learn to play with different equipment, and when you run out of ammunition you won't have a problem with using other weapons.
Crawl a lot - in this game crawling provides a very high level of hiding, because gameplay is very dynamic, and many players do not pay attention to details.
If you're using melee attacks, do it wisely: one blow from the front will not kill an opponent who is in full health. Before hitting your opponent, hit him with 1-2 bullets without using a crosshair. A blow to the back, however, always results in the death of the opponent.
Remember about medical treatment - hiding behind the cover and regeneration of health provides an advantage in duels.
Obstacle shooting - Most items such as thin walls and shields allow high damage to be dealt. If the enemy is hiding behind a wall, try firing it (if you have an automatic weapon) - you have a very high chance of killing your opponent.
Choose your favorite weapon and play it as often as possible: over time you'll be able to unlock a number of useful upgrades and new optics or scopes that will have a significant impact on your weapon's firing performance.
Equip yourself with a rocket launcher. You can destroy enemy drones, barricades and other obstacles - not only will you help your team, but get as many reward points as for killing your opponent. However, the launcher deals minimal damage to enemies.
Complete mission objectives - if no one has already done it, take care of it. Otherwise you won't win. You will also get many points for this.
About

Call of Duty Black Ops 4 Guide and Tips

Author : Patrick "yxu" Homa for gamepressure.com

Stage of progress : 5% completed, last update : October 17, 2018

Use the comments below to submit your updates and corrections to this guide.
Call of Duty: Black Ops IIII
Video Game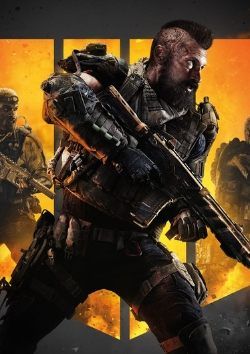 genre: Action
developer: Treyarch
publisher: Activision Blizzard
platform: PC, PS4, XONE
Black Ops IIII is another entry in the Call of Duty series and the fourth installment in the Black Ops sub-series. Similarly to the previous Black Ops games, the title was developed by Treyarch and the PC port was created in cooperation with Beenox Software. The game was published by Activision-Blizzard.

The action in Call of Duty: Black Ops IIII is presented from a first-person perspective. The game introduces various changes to the gameplay mechanics. The most important one is the lack of automatic health regeneration. Now the players can heal themselves manually when the time is right. The developers also removed the wall running and thrust jumps. The weapons are never pulled down and it is possible to shoot even while climbing or using the grappling hook.

Multiplayer is the pillar of Call of Duty: Black Ops IIII. It focuses not on individual battles, but on team-based play. The game also introduces a battle royale module called Blackout. In Blackout, the players are taken to a vast map (about 1500 times larger than the famous Nuketown) that features things taken from the most popular maps in the series. The map can be traveled through on foot or by using vehicles and machines (including boats, planes, and cars). The players assume the role of classic characters from previous entries in the series and in order to win one player must become the last man standing.

Black Ops IIII also features a Zombie mode that starts a new story. During the game in this mode, the players assume control of nine characters that face ancient, evil order. It is worth mentioning that the zombies can be fought together with other players or with companions controlled by artificial intelligence.