Astroneer Guide
Space, the final frontier. Astroneer Guide is practical tips for beginners that will allow you the best start. Our guide will teach you how to generate energy, build a base and collect resources. You will also learn all recipes for crafting.
The guide to Astroneer is a complete walkthrough that describes the various planets found in the game. Our compendium focuses on every important aspect of the game - starting with beginner's tips and ending on ways of traveling between planets. Our guide will help you start Astroneer and make exploration easier.
The first part of the guide contains various starting tips. The tips for beginners section contains descriptions of the game's basic mechanics - you will learn how to move on the map or how to craft tethers. Astroneer offers a large open world - because of that we have prepared a section called 5 steps you should do at the beginning. We also didn't forget about the crafting system - check our tips on how to craft new objects and items in Astroneer. You can also check the page dedicated to power and learn how to produce power and what it is used for.
The FAQ section is an important part of the guide. Here, you can learn how to get bytes, how to craft your first vehicle, how to visit other planets, where to find iron, how to change the game's language or how to store items.
The last part of the guide to Astroneer is dedicated to the game's technical aspects. The chapter dedicated to the controls will help you at the start of the game. Thanks to the system requirements page you can learn on which settings you will be able to run the game.
Radoslaw "Wacha" Wasik (www.gry-online.pl)
Starting tips
The first chapter focuses on Astroneer's basic elements. This chapter contains useful tips that will help you start the game and learn about various aspects of the game. We also recommend new players to check the page with 5 things you should do at the beginning - thanks to them you will know what to do right from the start. The page dedicated to crafting contains details on how to make new items and objects. The page dedicated to power will help you understand how to provide power to your objects and constructions.
Tips for beginners - what you should do, what you should be aware of, and how to move around the world.
5 things you should do at the beginning - what to focus on at the start of the game?
Power - why do you need it and how to make it?
Crafting - how to make new items and learn new schematics?
FAQ
The FAQ section is a great supplement for the starting tips chapter. In this chapter, we want to answer as many questions as possible. What happens when your character dies? How to get your first vehicle? Where to find iron? The following pages have the answers.
How to connect tethers to an oxygenator?
How to get bytes?
How to craft a vehicle?
How to change the game's language?
What happens when my character dies?
How to store items?
How to fly to other planets?
Where can I find iron?
Appendix
The final part of the guide focuses on the game's technical aspects. Here you can learn how to control your Astroneer. Check the system requirements to see which PC can run Astroneer without any problems.
Controls.
System requirements.
About

Astroneer Guide

Author : Radoslaw "Wacha" Wasik for gamepressure.com

Translator : Mateusz "Ictius" Sawka

last update : February 5, 2019

Use the comments below to submit your updates and corrections to this guide.
Astroneer
Video Game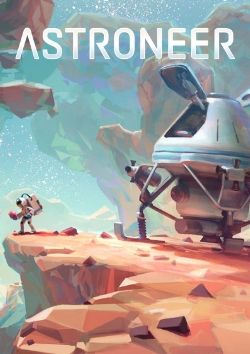 genre: Adventure
developer: System Era Softworks
publisher: System Era Softworks
platform: PC, XONE
Astroneer for PC and XONE is a sandbox action-adventure game about discovering new planets. It is the first production by System Era Softworks.

Astroneer is set in the 25th century, when humanity rapidly expands its influence in the galaxy. The technology allowing for fast and cheap interstellar travel resulted in a situation bearing all the features of the new gold rush. Enterprising explorers set out to the very borders of the known space, risking their lives for a chance to earn a fortune. You play as one of them.

All planets and moons in the game are procedurally generated, and their surfaces are made of voxels. The astronaut you play as is equipped with tools allowing them to change the shape of the environment by e.g. digging holes in order to search for resources, artifacts, or shipwrecks.

The items and resources you gather can be sold or used to create new items thanks to the crafting system. It allows to create not only tools and vehicles, but also bases, from simple on-use structures to miniature towns.

The procedurally generated world has an open structure and you use spaceships to travel between the celestial bodies. Of course, you can modify and build those vehicles. Most of the in-game time, however, you spend on the surface of moons and planets, where, apart from exploring, you also discover the secrets of extinct civilizations and face many dangers. Each world varies in terms of gravity, resources, and threats.

Astroneer for PC and XONE features both a singleplayer mode and a multiplayer mode.
More About

Astroneer
Astroneer sold over 500,000 copies – this may be the No Man's Sky we've been waiting for
Astroneer seems to be what No Man's Sky was expected to be, with its space exploration, procedurally generated worlds, terraforming and much more. Over 500,000 copies have been sold since the release of the Early Access version.