Assassin's Creed III Game Guide & Walkthrough
I watch them fight and die in the name of freedom. They speak of liberty and justice, but for whom? This guide to Assassin's Creed III contains a detailed and richly illustrated solution of the main story and all the side missions grouped into numerous additional activities.
This guide to Assassin's Creed III contains a detailed and richly illustrated solution of the main story and all the side missions grouped into numerous additional activities. Additionally you will find a list of all the collectibles together with helpful maps and a number of hints regarding various aspects of the gameplay.
The guide includes:
An illustrated description of the main missions together with hints on getting a full synchronization.
A description of all side missions.
Hints on close and long range fighting.
A chapter dedicated to hunting animals.
A traveller's guide.
Information regarding Homestead.
Hints regarding sailing.
A list of collectibles together with maps.
Michal "Kwisc" Chwistek
Translated to English by Jakub "cilgan" Lasota
About

Assassin's Creed III Game Guide & Walkthrough

Author : Michal "kwisc" Chwistek for gamepressure.com

Translator : Jakub "Cilgan" Lasota

last update : May 25, 2016

Guide contains : 130 pages, 983 images.

Use the comments below to submit your updates and corrections to this guide.
Hot Topics

of Assassin's Creed III Game Guide & Walkthrough
Assassin's Creed III
Video Game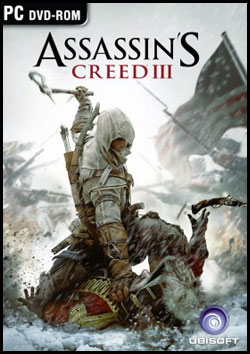 genre: Action
developer: Ubisoft Studios
publisher: Ubisoft
platform: XBOX360, PS3
rated: PEGI: Age 18+ / ESRB: Mature
Assassin's Creed III invites players to experience the untold story of the American Revolution through the eyes of a new Assassin, Connor.

Designed from the ground up over more than two years, Assassin's Creed III takes one of gaming's most beloved franchises to new heights.

The year is 1775. The American colonies are about to revolt. You are Connor, an assassin who has sworn to secure liberty for his people and his nation. To do so, you will hunt your enemies across a staggeringly large, open, and realistic world. You will unleash your lethal skills in a violent quest that will take you from chaotic city streets to blood-soaked battlefields in the hostile American wilderness and beyond. You will meet legendary heroes of American history, and together you will conspire to annihilate those who threaten Liberty itself.

Whether you use your predatory instincts to kill silently, or your fearsome arsenal to kill openly, one thing is clear: the world that the Assassins live in has become far more deadly. And so have you.

Connor

You are Connor, the warrior son of a Native American mother and British father. As a bloody revolution draws ever nearer, your clan is threatened by a powerful group seeking to crush the American revolution and control the thirteen colonies.

Shocked into action by the devastation of your village, you pledge your life to the cause of freedom, and embark on a decades-long quest to achieve it.

Your predatory instincts, honed by years of hunting through unforgiving wilderness, allow you to stalk and eliminate your targets in utter silence. When open combat beckons, you will unleash a staggering array of new weapons including tomahawks, rope darts, firearms, and more. Centuries before the term "black ops" is defined, you will pioneer this new kind of warfare.

Setting

There's the American Revolution you know from history books. And then there's the revolution you'll be fighting, set in a world that's far more realistic, gritty, and alive than any history book ever could be.

Pursue your enemies through a massive, dynamic world whose only constant is that it's always changing. From the legendary battlefields of Lexington and Concord and the crowded streets of Boston and New York, to the snow-covered Appalachian wilderness, you'll wage war in a stunningly alive and open environment. Whether you're tracking your quarry's blood trail through freshly-fallen snow, or taking advantage of howling winds and dense fog to conceal your attack, one thing is certain: you've never fought this way before.

Naval Warfare

In Assassin's Creed III Connor will battle his enemies not only on land, but also on the high seas aboard his stalwart vessel, The Aquila.

You'll navigate tumultuous waters and command your own naval warship, sending enemies to their watery graves with cannons and an array of powerful naval weaponry. Or should you choose, ready a boarding party and take the fight to the enemy by battling hand-to-hand on the deck of their own ship.

As Connor, the most complex and technically advanced Assassin to date, you'll move through the Assassin's Creed aquatic world with remarkable precision and fluidity, enhanced by more than 1,000 new animations for Connor alone. What awaits is the most detailed and immersive open-sea combat ever experienced in an open world game.

Anvil Next

Experience the jaw-dropping power of Anvil Next, the all-new engine designed exclusively for Assassin's Creed III.

The team spent three years building this revolutionary system from the ground up, and the results are nothing short of breathtaking.

It begins with stunning breakthroughs in motion-capture, animation, and AI technology, which deliver more realistic character animations and interactions than ever before. It continues with dynamic weather, seasons, and time, which significantly affect the world around you. And no all-new engine would be complete without a dramatically-expanded combat and stealth system. Take down your enemies with tomahawks, pistols, and more. Use your instinctual tracking skills to learn what happened after an event, and shape your future actions accordingly. Experience the true scope of war as thousands engage in battle.

Anvil Next delivers a next-generation Assassin's Creed experience on current-generation systems.