ARK: Survival Evolved Game Guide
Life finds a way. The ARK: Survival Evolved guide offers various hints introducing new players into the game's world. It includes information on topics such as gathering supplies, taming animals, finding artifacts and using engrams.
ARK: Survival Evolved is a huge sandbox game, with a developed survival system, cooperation and ability to improve the character you control. The following guide contains all of the information about the creatures you meet in the game, hidden caves with artifacts and contents of supply drops. You will learn how to summon and defeat one of the main bosses of the game (Bloodmother Lysrix), which resources are required to create your very first equipment, where to look for them and how to build your character. A separate chapter concerning the taming process of dinosaurs can also be found here, as well as information about feeding and training them. If you're an inexperienced player you will also learn how to start your journey, how not to die, how to spend development points gained after advancing to higher levels and where to set up your first camp.
The game has one DLC, released on 1st September 2016 called ARK - Scorched Earth. It unlocks an additional area and new possibilities - all of those were described in a separate chapter.
ARK - Survival Evolved game guide contains:
Controls and system requirements;
General hints introducing new players into the world of ARK - Survival Evolved;
A description of all types of supply drops, coupled with their contents;
A list of all of the resources available in the game;
A detailed guide concerning the taming process;
A list of most useful dinosaurs found in the game;
A description of engrams, with the requirements that must be met to use them;
A complete World Map;
Locations of artifacts;
A short description of the Scorched Earth DLC.
Przemyslaw Szczerkowski (www.gamepressure.com)
About

ARK: Survival Evolved Game Guide

Author : Przemyslaw "Cophelio" Szczerkowski for gamepressure.com

last update : October 19, 2016

Guide contains : 18 pages, 367 images.

Use the comments below to submit your updates and corrections to this guide.
Hot Topics

of ARK: Survival Evolved Game Guide
ARK: Survival Evolved
Video Game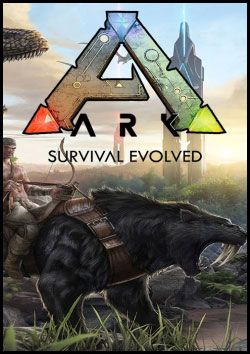 genre: Action
developer: Studio Wildcard
publisher: Studio Wildcard
platform: PC, XONE, PS4
ARK: Survival Evolved is a sandbox survival simulator set in an open world, pitting the players against dinosaurs and other players. The gameplay mechanics are modelled after the iconic MMO sandbox games such as DayZ, the major difference being that the role of the ever-present zombies was taken over by prehistoric reptiles. Our character finds himself, defenceless and naked, on an uncharted island, and our task is to survive for as long as possible in the hostile environment. In order to remain alive we must hunt and gather raw materials, which can be used to craft weapons and various tools necessary for our existence. We can develop our character by learning new skills that will prove very useful for our survival. Some of them even allow us to tame dinosaurs, and thus make them our personal mounts.

As in most productions of this type, we have a safe haven in the form of a self-made hideout, which provides us with shelter from more dangerous dinosaurs – more than 70 species of these creatures appear in the game, from small flying pterosaurs to real giants, like Diplodocus, Brontosaurus, or the T-rex.

The game focuses on online fun, and as per rules of the genre, allows to set up alliances and cooperate with other peaceful players. Nothing, however, prevents us from playing offline, but we must take into account the fact that we won't be able to face all of the challenges.
ARK: Survival Evolved PC version
System Requirements
Minimum: Dual Core 2.0 GHz, 4 GB RAM, graphic card 1 GB GeForce GTX 560/Radeon HD 6870 or better, 20 GB HDD, Windows 7/8
More About

ARK: Survival Evolved