Anthem Guide
Prepare your Javelin. Anthem guide helps you to understand the basic and advanced mechanics. Our tips will help you choose the best Javelin and take care of its development. You will learn here about microtransactions, skills and combat. Be sure to check our walkthrough.
Our guide to Anthem, developed by BioWare, contains all information about this game. Learn the game's basics and understand the most important aspects of the gameplay mechanics. The guide is recommended for both beginners and those who want to learn more advanced tactics and character builds.
The guide is divided into a few larger parts. One of the most important chapters is dedicated to the descriptions of the four available Javelin classes (futuristic armors used by the characters to explore the game's world). We have listed the pros and cons of every armor as well as their main roles and exemplary builds for each of the main Javelin classes. Our guide also includes descriptions of the most important gameplay mechanics such as flying, combat, getting loot, upgrading your Javelin or accepting missions. We have dedicated a separate page to Fort Tarsis - your main base. There, you can read about the NPCs, secrets or interactive areas found within the fort.
We have dedicated a large portion of the guide to describe the game's content. The most important part is the walkthrough for Anthem's every main mission. Besides that, we have also included walkthroughs for the strongholds, descriptions of the contracts and random events happening in the game's world which can give you various rewards (e.g. blueprints or new parts for your Javelin). Besides that, we have also included descriptions of more challenging puzzles you can encounter during the missions.
The FAQ section is another important part of the guide. Here, you can learn how to get XP fast, how to get coins, which Javelin class is the best, where you can find the forge, what is the recommended difficulty level, how to craft new weapons or how to extend your flight time. The guide also contains chapters dedicated to the controls, Anthem's system requirements, and a trophy/achievement guide where you can find detailed descriptions of the available trophies/achievements.
Anthem is a co-op TPP shooter with MMO elements. The story is set in far future where we control one of the Freelancers who use advanced armors to explore the dangerous world. These armors have advanced weaponry systems and they allow their users to fly. As the game progresses, we get access to new armor upgrades and classes which change the gameplay completely.
Which Javelin class should you pick?
In Anthem, there are four main types of exosuits available. The chance to unlock subsequent javelins appears after the hero advances to the 2nd, 12th, 20th and 28th experience level respectively.
Ranger - Pick this class if you want to play a versatile character in the style of a soldier. This is the easiest class to master.
Storm - Pick this class if you want to play a character who resembles a mage and defeats enemies with attacks based on the elements.
Interceptor - Pick this class if you want to play a very agile character who can perform fast, precise attacks.
Colossus - Pick this class if you want to play a tank and use the heaviest possible ordnance to defeat enemies.
I have questions and I am looking for answers
Some of the mechanics of Anthem may initially be incomprehensible or insufficiently clear. The FAQ section of our guide should help You with most of these issues. Here are some of the topics that we have decided to describe:
Where is the Forge? - You can find it at the eastern end of Fort Tarsis. It is a control panel located next to Zoe and the currently displayed Javelin.
How to change the Javelin and its loadout? - You must interact with the Forge panel. You can change the Javelin's loadout in the main menu. You can change the Javelin class only to one that you have already unlocked.
How to get XP faster? - First of all, it is worth grouping up with other players and performing combo attacks with them. In addition, we also recommend visiting Strongholds and random events that you will come across during exploration.
How to extend flight time? - The engines in your exosuit can be cooled down in several ways, e.g. by deciding to fly just above the surface of the water, by plunging the Javelin into water or by flying through a waterfall.
Can you play Anthem solo? - Single player mode is unfortunately only available in a few specific game modes. These are mostly story missions, which can be completed without any assistance from other players (but playing through them alone will make it much harder to survive).
Can you romance in Anthem?
No, Anthem doesn't offer players the option to romance NPCs. Our character can only befriend and talk with NPCs to learn them better or give them advice. However, the developers are thinking about adding the option to romance characters after Anthem's release.
How to return to Fort Tarsis?
Fort Tarsis is your main hub. Usually, you can go back there after completing a mission. Freeplay mode is the exception. If you are playing in that mode, open the map and hold the button to end Freeplay (see the picture above - hold Square if you play on PS4). By doing that, you save your progress (gained XP, collected loot). If you close the game in any other way (you shut it down, go back to the main menu etc.), your progress will be lost.
Why didn't I get any XP after ending an expedition?
You get XP after you complete a mission or end Freeplay mode. Go back to the Fort - the game will display a summary of your recent activities, including gained XP. If you leave the game before you go back to Fort Tarsis, you can lose your recent progress.
Can you run in Fort Tarsis?
Yes, you can move faster inside the Fort by holding the run button. However, you won't move much faster. Remember that you can follow the marker to your current objective. You should also memorize where the forge and your Javelin station are. You will visit these parts of the Fort a lot.
What versions of Anthem can I get?
Anthem has three versions:
Standard edition. Offers pre-order bonuses - Founders Player Banner, Legion of Dawn Legendary Armor pack and a weapon for Ranger class.
Legion of Dawn edition. Offers the same bonuses as the Standard edition. However, this edition also comes with additional content - Legendary Armor + Legendary Weapon pack for the other three Javelin classes (Colossus, Storm, Interceptor), and a digital version of Anthem's soundtrack. The legendary armors and one of the weapons are presented in the picture above.
Origin Access edition. Available only on PC and only for Origin Access Premier subscribers. This edition offers the same bonuses as Legion of Dawn edition. However, it also allows players to access the game on February, 15th 2019, a week before the game's official release date.
Can I pause the game?
No, Anthem doesn't have the option to pause the game. Even if you play solo and you open Cortex or the main menu, the game won't pause. This means that your character can, e.g. get attacked by an enemy. Open these windows only when you are in a safe location.
When can I play the full version of Anthem?
Your access to the full version of Anthem depends on which platform you own:
Anthem on PC - you can play the game in Early Access on February 15th, 2019 if you are subscribed to Origin Access. The Basic version gives you the option to play 10 hours trial. The Premier version is the only one that gives you unlimited access before the official release date. Otherwise, you will have to wait until February 22th, 2019 (the official release date).
Anthem on Xbox One - You can play the game in Early Access on February 15th, 2019 if you are subscribed to EA Access. However, you will only be able to play the 10 hours trial. Otherwise, wait until February 22th, 2019 for the official release.
Anthem on PS4 - Sadly, this console doesn't have any Early Access options. Regardless of which version you have, you need to wait until February 22th, 2019 for the official release.
Can I play the Anthem demo?
Unfortunately, no, you can't play the demo anymore. Anthem's demo was released two times, first for VIPs (January 25-27th, 2019) and then for everyone (February 1-3th, 2019). The publisher isn't planning on releasing the demo again. If you still have the demo client still installed, you won't be able to play it - the demo's servers are inactive.
About

Anthem Guide

Author : Jacek "Stranger" Halas for gamepressure.com

Translator : Mateusz "Ictius" Sawka

last update : January 29, 2019

Use the comments below to submit your updates and corrections to this guide.
Anthem
Video Game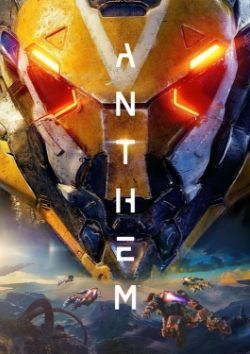 genre: Action
developer: BioWare Corporation
publisher: Electronic Arts Inc.
platform: XONE, PC, PS4
Anthem is a science fiction shooter with MMO elements developed by BioWare. It was created by the studio's Edmonton division, the one responsible for the studio's greatest hits (Dragon Age series and the Mass Effect trilogy).

The game takes us to an alien planet where humanity uses a gigantic wall to guard itself from monsters. Heroes known as Freelancers use special exosuits called Javelins when venturing behind that wall.

In terms of gameplay mechanics, Anthem for PC, PS4 and XONE blends the elements from shooters and MMO games. We start our adventure with the creation of our hero. After that, we take part in exploration of the game's world and start doing missions (alone or with friends). We get experience points for finishing quests. They allow us to progress our character.
More About

Anthem