Agony Game Guide
Discover the secrets of hell! Agony Game Guide is a complex walkthrough, that will help you complete the passage through hell. Among the tips and guidelines, you will find information about hellish secrets and learn how to avoid demons, where to find forbidden apples and sigil signs.
The Agony Game Guide contains a detailed solution and a lot of practical tips to help you with the game. You will learn what to do to go through the game without a hitch and avoid unnecessary deaths. In this guide you will find a detailed description of each mission so that you can efficiently deal with every aspect of the game. In addition, we have prepared a page where you can find advice on how to develop your skills. It will be very useful in the initial chapters of Agony. Agony is a survival horror in which you will have to play the role of a soul in hell. Your task will be to overcome all difficulties and get out of hell. You will get some power that will make it easier for you to move around the hell, but you will still have to avoid contact with demons. They hunt you and try to stop your escape. The game is designed for adults due to the dark climate of hell and demons.
The Agony Game Guide consists of:
Author: Natalia "N.Tenn" Fras
About

Agony Game Guide

Author : Natalia "N.Tenn" Fras for gamepressure.com

Translator : Jakub "Yossarian" Nowak

last update : May 29, 2018

Use the comments below to submit your updates and corrections to this guide.
Agony
Video Game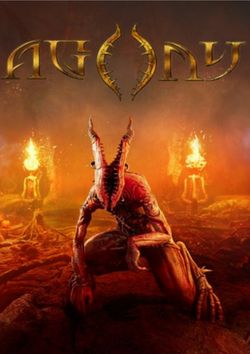 genre: Adventure
developer: Madmind Studio
publisher: PlayWay
platform: PC, XONE, PS4
Agony is first-person survival horror game for PC, PS4 and XONE powered by Unreal Engine 4. It is the debut project of Madmind Studio, a Polish studio founded by experienced developers who had worked on such titles as The Witcher 3: Wild Hunt, Sniper: Ghost Warrior 2, Alien Rage, Enemy Front, and Tom Clancy's The Division.

The protagonist of Agony goes to hell. The player's task is to find a way to escape this cursed place. His only hints are foggy images of the Red Goddess who reigns in the abyss.

The hero is a historical character but doesn't remember his past because of his amnesia. This is why discovering his true identity and the reasons for going to hell are some of players' tasks.

Agony for PC, PS4 and XONE is an action adventure game that belongs to the survival horror category. While playing, we observe the events from the eyes of the protagonist. He does not have any fighting skills so survival requires us to avoid confrontation with demons. Survival is made easier by the ability of controlling the minds of encountered humans and lesser demons. Apart from the stealth gameplay, the production also features numerous logic puzzles.

The vision of hell presented by the developers consists of four areas, and their careful exploration allows us to find many useful items and clues that let us better understand the plot.

Agony features only a single player campaign. The developers did not implement any kind of multiplayer mode.

The production is powered by Unreal Engine 4 which ensures high level of details and modern visual effects. The developers put in a lot of effort into creating a visual design of hell. Demons that cause goose-bumps are especially noteworthy aspect of it.